Grandma Jeans Chocolate Chip Cookies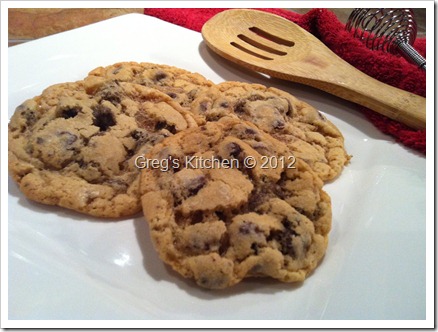 Growing up, my most favorite treat when I went to grandma and grandpas farm had to be grandma Jeans chocolate chip cookies.  I would wait at her counter just waiting for them to come out of the oven.  She always scolded me and told me I had to wait till they were cool to eat them.  I didn't like waiting.  One time I guess I just pestered her a little too much and she said go ahead and eat them then.  That is all I had to hear.  I immediately grabbed a handful and took off outside.  I gobbled them up as fast as I could then headed into the house to get some more out of the next batch coming out of the over.  All I heard was grandma saying "you'll be sorry little boy".  Ha Ha, how could I be sorry.  These were the best things I had ever eaten. 
Now lets fast forward to the next day as I was laying in bed with the worst stomach ache.  Grandma had put a curse on me, I just knew it.  How could I be so sick from eating grandmas cookies.  I had eaten them almost every weekend.  Honestly, I was not able to eat a chocolate chip cookie again for over a year.  Just smelling them or seeing them made me a little queasy. 
Now why is all this coming back to me so much tonight?  Well it's because my granddaughters ask me to make them chocolate chip cookies for their dad to bring to them tomorrow when he goes to see them.  So of course out came the Kitchen Aid stand mixer and grandma's cookie recipe.  After putting them all together and baking them, I had to sneak one before my grandsons who are visiting this week from Ohio caught a whiff of them.  Oh my gosh, when I bit into that warm cookie, I immediately was taken back to grandma's kitchen.  Then I ate another and another.  Wait what am I doing I thought?  I could hear grandma saying "you'll be sorry little boy".  So I put the third one down.  As I did I noticed that someone had found my freshly baked goodies.  Fortunately I had my camera near and I caught the little thief (Xavier) just before he grabbed one and ran.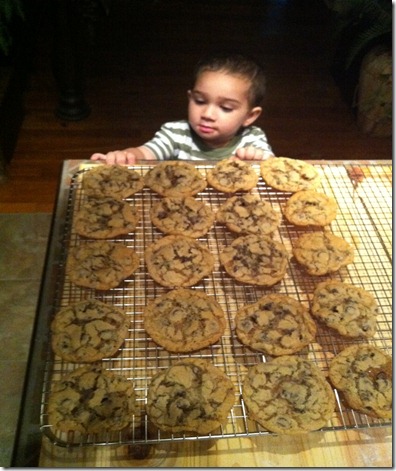 I guess that's the same view grandma Jean use to see on those Saturday mornings I spent with in her kitchen with her.  I would trade anything for just one more of those moments.  It must be my turn now to make some memories with the little ones in my life now.  Thanks grandma for showing me how to do this.
So now here is her recipe.  I am sure most of you have made these cookies, but she did something different than I am used too in making cookies.   She always started with cold butter instead of room temperature butter.  Plus she would put the cookie dough in the refrigerator for about an hour or more and in between dipping them out on the cookie sheet.  You will find out that this makes the cookies crisp on the bottom and sides, but still chewy in the middle.  They puff up in the oven, but immediately deflate when you take them out.
Ingredients:
1 ½ cups all-purpose flour
½ t. baking soda
½ t. salt
¼ pound (1 stick) cold unsalted butter, cut into 1/2-inch pieces
½ cup sugar
¾ cup tightly packed light brown sugar
1 ½ t. vanilla extract
1 large egg, at room temperature, lightly beaten
1 12 oz. bag of chocolate chips
1) In a large bowl sift together the flour, baking soda, and salt  and set aside.
2) Using a stand mixer fitted with a paddle attachment or a hand mixer if you don't have a stand mixer, cream the butter and sugars on low speed until it is smooth and lump free, about 3 minutes. Scrape down the sides of the bowl and the paddle.
3) Add the vanilla and egg and beat on low speed for about 15 seconds, or until fully mixed in. Don't over mix. Stop the mixer and scrape down the sides of the bowl and the paddle.
4) On low speed, add the flour mixture. Beat until it just comes together. Scrape down the sides of the bowl. Add the chocolate chips and mix until they are just incorporated. If using a hand mixer, use a wooden spoon to stir them in. Refrigerate dough for at least an hour, or maybe overnight.
5) Preheat oven to 350.  Line baking sheets with parchment paper or Silpats.  Spoon the dough using a cookie scooper 2 inches apart onto the prepared baking sheets. (makes about 36  3-inch round cookies)
6) Bake for 11-13 minutes  or until they are just golden brown around the edges but still soft, almost underdone-looking, in the center. Rotate the pans half way around halfway through if your oven doesn't heat evenly.
Remove the cookies from the oven and carefully slide the parchment or Silpats directly onto a work surface. When cookies are set, remove them to a cooling rack.
Wait at least 5 minutes before serving or 20 minutes before storing in an airtight container for up to 3 days at room temperature.
1,955 total views, 2 views today

You may like these recipes too: