Tennessee Moonshine Chili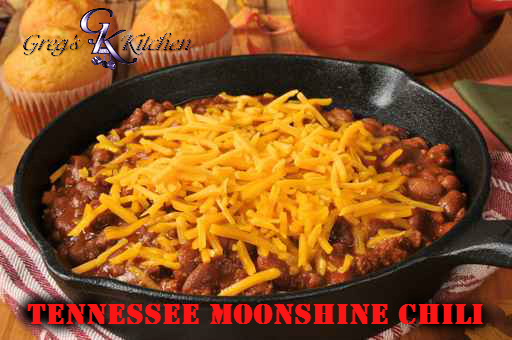 This has been the coolest weekend so far this fall in Tampa.  Temperatures in the 50's at night and mid 70's during the day.  I love this weather.  But being a little chilly usually means I need something to warm me up.  I moved to Florida 25 years ago and my blood has thinned.  So its time to break out my largest cast iron skillet and make some Chili.  Now a lot of you have tried my other chili recipe here on my site, but this ones a tad different.  I decided to make a chili in honor of one of my favorite states.  Tennessee.
I saw a mason jar sitting all by itself on a shelf in my pantry.  It's filled with a very clear liquid that is very potent, and it is from Tennessee.  Yupp….I'm talking about Moon Shine.  So this is going to be my special ingredient in my chili, along with smoked bacon.  I've found that moonshine brings out a spicy flavor in tomatoes, somewhat like vodka does in a good vodka sauce.
I did try a few new things this time, and if I do say so myself.  It turned out awesome.  I made a double batch because all my friends ask for my chili, so if you want a smaller amount, just half my recipe.
I hope y'all enjoy, and by the way, you can always leave the moonshine or whiskey out if you prefer.  Not sure why you would want too, but to each his own.
Ingredients:
10-12 slices of smoked bacon (diced)
3 lbs. ground chuck
2 teaspoons smoked paprika
2 teaspoons house seasoning
1 red pepper (diced)
1 yellow pepper (diced)
2 green peppers (diced)
1 purple onion
2 sweet onions
4 cups beef broth/stock
1 shot glass of Moonshine (or whiskey)
2  28 oz. cans  crushed tomatoes
2 1/2 teaspoons ground cumin
8 tablespoons chili powder
1 tablespoon cayenne pepper
2  7 oz. cans chopped green chilies
1 can tomato paste
1 quart tomato sauce
3 cups kidney beans
4 squares baking chocolate
4 cinnamon sticks
4 tablespoons corn meal
Brown and render the fat out of your bacon in large stock pot.  Drain the bacon fat for future use.  Place bacon in bowl, add ground chuck, smoked paprika, house seasoning, onions and peppers in stock pot.
Drain your beef mixture once cooked and return to pot along with the kidney beans.  Add back the bacon,  beef stock, shine or whiskey, tomatoes, cumin, chili powder, cayenne pepper, green chilies, tomato paste and tomato sauce and cook at a low simmer for 1 hour.  Now add chocolate, cinnamon sticks and corn meal to the chili, cover and let simmer an additional hour.
Garnish with some green onions and cheese and enjoy.
19,250 total views, 0 views today

You may like these recipes too: