My Niece loves this dessert.   It is my Turtle Trifle.  It is so easy to put together but don't tell your family and friends.  They'll think you worked on it for hours
.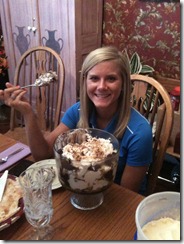 Ingredients:
2  cups  home made whipped cream ( if you can't, then do cool whip)
1  9×13 cake pan sized homemade brownies (boxed if you must) Cubed
1   jar  chocolate fudge topping
1   jar caramel topping
1/2  cup  chopped pecans, toasted
1/2 cup Butterfinger toffee bits
Preparation
1. Make whipped cream by whipping 12 oz. of heavy whipping cream with 1 Tablespoon sugar and 1 teaspoon vanilla extract in a large bowl at medium speed with a heavy-duty electric stand mixer, using the whisk attachment until smooth and firm peaks form. Don't over whip, it will collapse and then you might as well forget it, you can't get it back.
2. Place 1/3 of brownie cubes in bottom of a 4-qt. trifle dish or tall, clear 4-qt. glass bowl. Spread 1/3 of whipped cream mixture over pie cubes. Drizzle with half each of chocolate fudge topping and caramel topping. Sprinkle with half of chopped pecans and toffee bits. Repeat 2 more layers.
3. Cover and chill at least 1 hour or up to 8 hours.
4. Share.
4,304 total views, 0 views today

You may like these recipes too: