White Chocolate Chip Oatmeal Lace Cookies
I always like to bump up an old family recipe to make it my own.  This is grandma Jeans oatmeal cookie recipe, with the addition of white chocolate chips.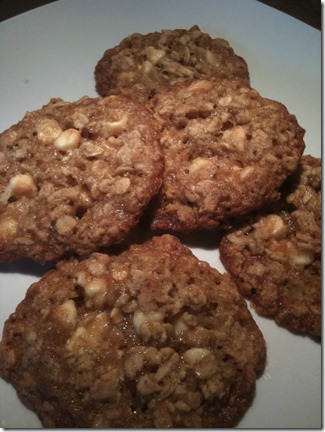 Ingredients:
3/4 cup (1-1/2 sticks) butter or margarine, softened
3/4 cup granulated sugar
3/4 cup packed light brown sugar
2 eggs
1 teaspoon vanilla extract
1-1/4 cups all-purpose flour
1 teaspoon baking soda
1/2 teaspoon ground cinnamon
1/2 teaspoon salt
3 cups  regular rolled oats, uncooked
1-3/4 cups (11-oz. pkg.) HERSHEY'S White Chocolate Chips
Directions:
1. Heat oven to 375°F.
2. Beat butter, granulated sugar and brown sugar in large bowl until well blended, you should add the sugar slowly to the butter while whipping.  This will add air to the mixture and make your cookies lighter/fluffier.  Add eggs and vanilla; beat well.
3. Combine flour, baking soda, cinnamon and salt; gradually add to butter mixture, beating until well blended. Stir in oats and white chocolate chips; mix well. Drop by heaping teaspoons onto ungreased cookie sheet.
4. Bake 8 to 10 minutes or until golden brown. Cool for 5 minutes on cookie sheet; remove from cookie sheet to wire rack. Cool completely. About 4 dozen cookies.
2,271 total views, 0 views today

You may like these recipes too: