Thick and Chewy Triple Chocolate Cookies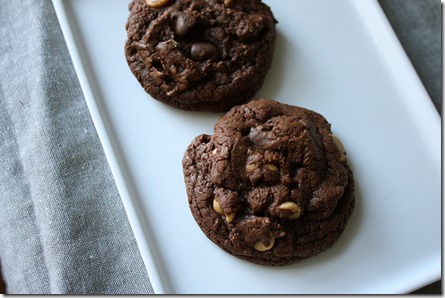 Ok, so this is yet another cookies with my favorite ingredient…"CHOCOLATE".  And notice it says "Triple" Chocolate, now that is just triple the fun.  Don't over bake these cookies, they will only come out dry and NOT chewy.  So go grab a big glass of ice cold milk and enjoy.
Makes about 42 cookies
Ingredients
2 cups unbleached all-purpose flour
1/2 cup dutch processed cocoa powder
2 tsp baking powder
1/2 tsp salt
16 oz semisweet or bittersweet chocolate, chopped
4 large eggs
2 tsp vanilla extract
2 tsp instant coffee or espresso powder
10 tablespoons (1 1/4 sticks) unsalted butter, softened but still cool
1 1/2 cups packed light brown sugar
1/2 cup granulated sugar
12 oz semisweet or bittersweet chocolate chips (or half chocolate and half peanut butter chips)
1. Sift together the flour, cocoa, baking powder, and salt in a medium bowl, and then set aside.
2. Melt the chocolate in a medium heatproof bowl set over a pan of simmering water, stirring once or twice, until smooth, then remove from the heat. In a small bowl beat the eggs and vanilla lightly with a fork, sprinkle the coffee powder over to dissolve and set aside.
3. Either by hand or with an electric mixer, beat the butter at medium speed until smooth and creamy, about 5 seconds. Beat in the sugars until combined, about 45 seconds; the mixture will look granular. Reduce the speed to low and gradually beat in the egg mixture until incorporated, about 45 seconds. Add the chocolate in a steady stream and beat until combined, about 40 seconds. Scrape the bottom and sides of the bowl with a rubber spatula. With the mixer at low speed, add the dry ingredients and mix until just combined. Do not overbeat. Stir in the chocolate chips. Cover with plastic wrap and let stand at room temperature until the consistency is scoopable and fudge-like, about 30 minutes.
4. Meanwhile, adjust the over racks to the upper- and lower-middle positions and heat the oven to 350 degrees. Line 2 baking sheets with parchment paper. Scoop the dough onto the prepared baking sheets with a 1 3/4 inch ice cream scoop, spacing the mounds of dough about 1 1/2 inches apart.
5. Bake until the edges of the cookies have just begun to set but the centers are still very soft, about 10 minutes, rotating the baking sheets front to back and top to bottom halfway through the baking time.
Cool the cookies on the sheets about 10 minutes, slide the parchment with cookies onto wire racks, and cool to room temperature. Cover one cooled baking sheet with a new piece of parchment paper. Scoop the remaining dough onto the parchment lined sheet, bake and cool as directed. Remove cooled cookies from the parchment with a wide metal spatula.
3,529 total views, 0 views today

You may like these recipes too: