Swiss Steak – Multi Cooker Version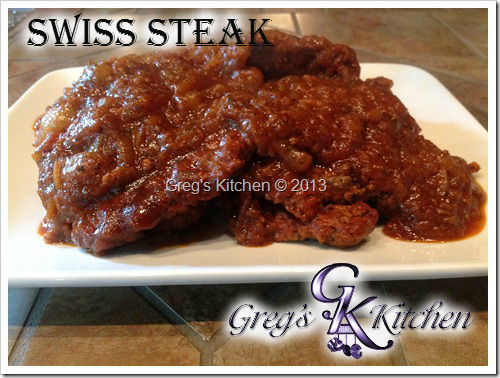 One of my favorite meals mom made when I was growing up was Swiss Steak.  I just thought the rich sweet tomato taste of the sauce, along with all the onions was the best.  She cooked it all day long in the crock pot or in the oven.  The meat just fell apart.  So after someone asked me for a recipe for Swiss Steak today, I decided I should just make it myself.  I also decided to make it this time in my Paula Deen Multi Cooker.  I am so glad I did.  It brought back such great memories.  I think y'all are going to love this recipe as well.
Ingredients:
2 lbs Cube steak
2 Tsp salt
1 Tsp pepper
3/4 Cup all-purpose flour
1/4 Cup vegetable oil
1 Large onion, thinly sliced
2 Cloves Garlic
1 Tbsp tomato paste
1 (14.5 oz) Can diced tomatoes
1/2 cup water
1 Tsp oregano
1 Tsp paprika
1 Tbsp Worcestershire sauce
1 1/2 Cups beef broth
Heat oil in Multi-Cooker on medium. Salt and pepper each side of steaks. Dredge cube steaks in flour and place in skillet. Cook about 2 mins. per side.  We just want to brown them.  Remove to plate and set aside.
Add onions to Multi Cooker and cook for about 2 minutes to slightly soften.  Add the garlic and cook for an additional 30 seconds.
Add tomato paste, oregano, and paprika. Stir to combine . Add diced tomatoes, water, Worcestershire sauce and beef broth. Continue to stir. Return the steaks to the Multi Cooker,  and cook for about about 45 minutes to an hour on low.

3,887 total views, 0 views today

You may like these recipes too: