Bourbon, Bacon & Brown Sugar Brussel Sprouts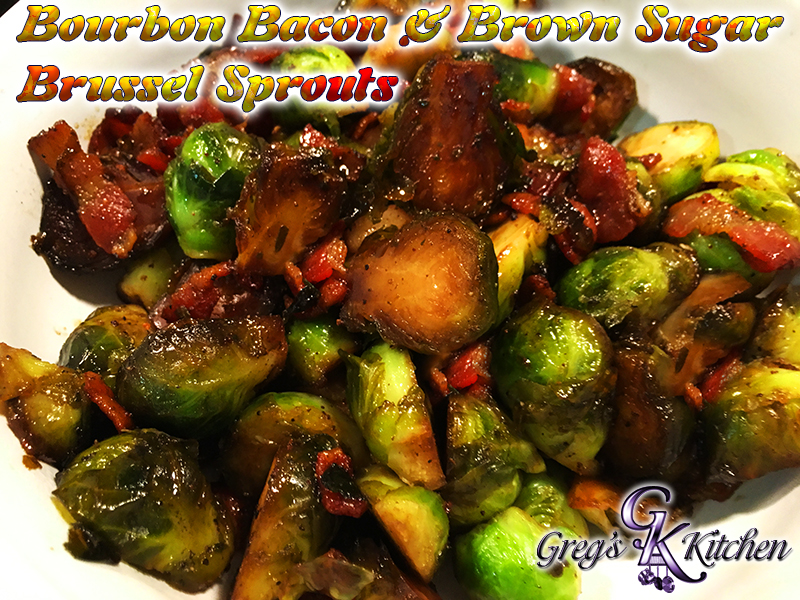 Brussel Sprouts have become one of my favorite side dishes.  Now I'm not talking about those boiled ones that we probably all grew up with.  I'm talking about the roasted or grilled brussel sprouts.  Cooking them with high heat in either method will caramelize the sprouts and bring out their natural sugars.  Of course when you through some brown sugar, bacon and bourbon in with them, you've taken them to a whole new level of deliciousness.
So give these a try and see if you too don't become a fan of these beautiful and tasty  brussel sprouts.  I think you will.
Ingredients:
1 1/2 pounds brussel sprouts- halved
8-10 strips bacon
1/4 cup brown sugar
3 tablespoons balsamic vinegar
2 tablespoons bourbon (optional)
Salt & Pepper
First get a big ole cast iron skillet up to temperature over medium high heat.
While skillet is heating, cut the bacon into small bite size bits. (of course a bite size for me would be the whole strip, but I digress)
Add bacon to skillet and render down the fat. Then lower heat to medium and cook them to a crispy brown.
Remove bacon from skillet to a paper towel lined plate to pull most of the fat from the bacon.
Pour all but about 2 tablespoons bacon fat from the skillet.  (save that beautiful bacon fat for other recipes)
Now place all the brussel sprouts cut side down into skillet and don't touch them for 2-3 minutes to get a good caramelization on them.
Add the brown sugar, vinegar and bourbon to the skillet and toss all together.  Allow to cook an additional minute or so stirring continuously.
Salt and pepper to taste and serve.
26,670 total views, 0 views today

You may like these recipes too: