Pan Seared Orange Marmalade Glazed Salmon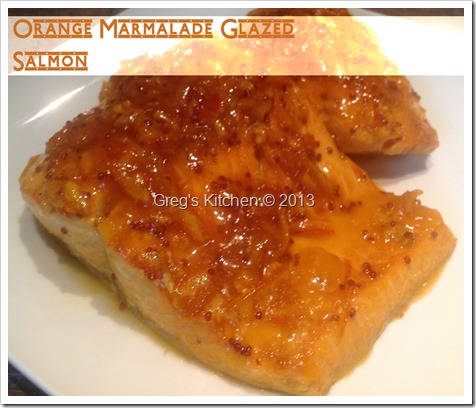 I love Saturday mornings.  It's the day that I go to the farmers market's, some of our local specialty food markets and seafood shop's.  Living in Florida I am surrounded by some of the best seafood in the world.  I think I could actually eat it five nights a week.  I will on occasion even drop a line or net in the bay (Tampa Bay) or when we had our boat, the Gulf of Mexico.   There is nothing better than acquiring on your own what you will have on your dinner table that night.  You know it's fresh, preservative free and on your plate because of your efforts.
I'm also lucky to have a couple wonderful seafood markets (some right on the water) that I can get the best and most amazing seafood.  It's always a thrill to be driving by the waterfront and squint to see what is on the seafood market sign as fresh caught that day.  Stone crab is one of my favorite, but there is hardly anything that comes from the Bay and Gulf that I don't appreciate and find a way to use.
So today it was fresh line caught Salmon that caught my eye.  Beautiful, full side filets.  Not a bit of fishy smell.  I knew that it was going to be a wonderful dinner.  I usually like a bourbon-molasses glazed Salmon, but tonight I decided to stick with the Sunshine State and go with our favorite citrus.  Orange's.  So here is my version of a Orange Marmalade Glazed Salmon.
Ingredients:
2 teaspoons olive oil
3-4 Salmon filets
1 cup orange juice
1/2 cup orange marmalade
1 teaspoon minced ginger
2 tablespoons whole grain mustard
1 tablespoon balsamic vinegar
1/2 teaspoon salt
1 teaspoon fresh ground pepper
In a large zip lock bag combine the juice, marmalade, ginger, mustard, balsamic, salt and pepper.  Mix well
Add the salmon and  to the bag, seal and marinate for 30-60 minutes.  Don't over marinate, the acid in the juice will break down and start to cook the salmon.
Place olive oil in large sauté pan and heat over medium high heat.
Remove salmon from bag and place flesh side down in hot pan. (reserve marinade)
Sear until golden brown, approx. 3-4 minutes.
Turn and sear for 2-3 minutes and then add the marinade to pan.
Cook 4-6 minutes thickening the marinade.
Remove salmon from pan and spoon the thickened marinade over it.
2,421 total views, 0 views today

You may like these recipes too: