Fried Green Tomato & Bacon Sandwich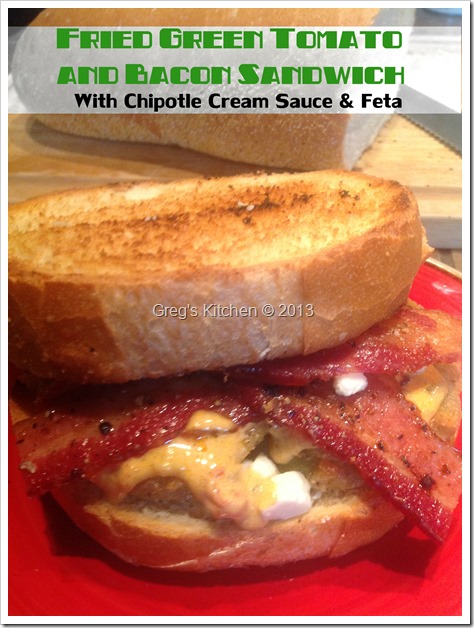 There is nothing better on a sandwich (or anything for that matter) than bacon.  So for a quick Saturday lunch sandwich I decided to make a fried green tomato and bacon sandwich.  I saw a beautiful loaf of Chicago Italian Bread at the market this morning so after grabbing that I decided this extra special bread needed an extra special taste.  So I whipped up a chipotle cream sauce (recipe below) to take it over the top.
What you'll need:
2 green tomatoes sliced and fried (Fried Green Tomatoes)
6 strips thick sliced bacon – cooked
1 loaf fresh rustic bread (slice thick)
4 tablespoons mayonnaise
4 tablespoons Chipotle Cream Sauce (recipe below)
1/4 cup crumbled feta cheese
Slice your loaf of rustic bread about 1-1 1/2 inches thick.  Spread each side with mayonnaise and grill till browned on each side.  Layer 2-3 green tomatoes over bread and drizzle with chipotle sauce.  Sprinkle with crumbled feta and top with 2 or 3 slices of bacon. 
ENJOY!!!!!
For Chipotle Cream Sauce:

Butter 2 Tablespoons
Garlic clove, minced
Chipotle in Adobo, pureed  about 1 1/2  Tablespoons
Heavy Cream 1 cup
Whole milk 1/4 cup
Salt  1/2 teaspoon
In a small saucepan, melt butter over medium heat. Once melted, add the garlic and cook slowly until tender.  Be careful not to burn the garlic, watch closely.
Add chipotle puree and the cream, heating slowly.
Mix in the milk. Simmer on low heat until reduced to create a thick sauce.
Add salt to taste and keep sauce warm while preparing sandwich.
946 total views, 1 views today

You may like these recipes too: