Sweet and Spicy Pork Chops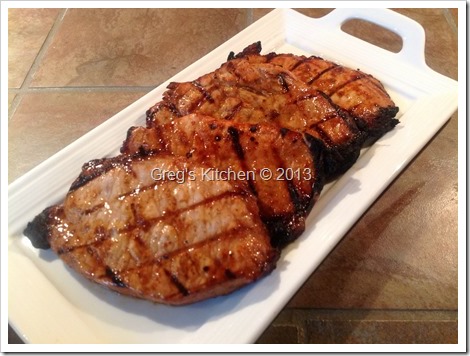 Here is a quick and easy summer grilling recipe.  I love the contrast in the sweetness and spiciness of these chops.  the ginger adds a bit of bit to them as well.  I think y'all will really enjoy these.
Ingredients:
4 Pork Chops
6 cloves Garlic, crushed
1 tablespoon Ginger, minced
3 tablespoons Brown Sugar
2 tablespoons cup Soy Sauce
3 tablespoons Honey
3 tablespoons Red Wine Vinegar
1/2 teaspoon cayenne pepper (adjust per taste)
Salt & Pepper to taste
Instructions:
Combine the garlic, ginger, brown sugar, soy sauce, honey, vinegar, cayenne pepper, salt, and pepper in a small container.
Place the pork chops in the container and cover in the sauce. Let marinade for at least 2 hours.
Grill pork chops. Grill until sugar has caramelized and the chops have browned.
876 total views, 1 views today

You may like these recipes too: