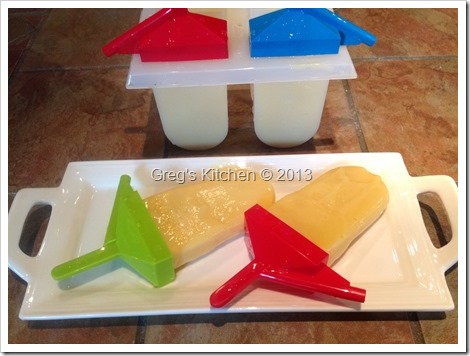 As y'all can see.  I am playing with my granddaughter Chloie's popsicle molds again.  Unfortunately, she is not here with me to make these, but I know I'll be making them again when she is visiting.
We all grew up chasing the ice cream truck.  I can remember hearing the music from the ice cream truck even when it was blocks away.  My favorite was the push-up pops.  That wonderfully creamy orange frozen treat could cool me off even on the hottest of summer days.
So today I saw a recipe on Pinterest (by Recipes.com) for these wonderful treats and knew I would be making them tonight.  I am sharing their recipe with y'all so you too can enjoy these wonderful delights.
Ingredients:
1 cup vanilla-flavored yogurt

1/2 cup orange-juice frozen concentrate, thawed

1/4 cup water

1/8 teaspoon ground ginger
In a mixing bowl, combine all ingredients, stirring well.
Fill ice-pop molds with yogurt mixture. Freeze for 4 hours or overnight. To remove pops from molds, follow manufacturer's instructions.
It's just that simple…..
813 total views, 0 views today

You may like these recipes too: