Alligator Sausage and Shrimp Cheesecake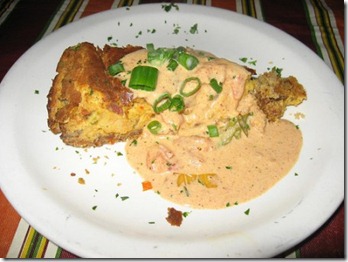 Now I have not had this or made this myself yet.  But let me tell you, after seeing this on the Food Network, you know I had to investigate.  Its from Jacques in New Orleans, and I can't wait to make and taste it.  If your looking for  a sweet cheesecake, your in the wrong place.  This is savory and spicy.  If you don't have access to gator sausage, I'm sure Andouille sausage would work well too.
1 1/3 Cup Plain Bread Crumbs
2/3 Parmesan Cheese (I recommend you grate this yourself)
4 oz. unsalted butter (melted…slowly – don't let it break)
1 ½ pounds Cream Cheese – softened
3-4 eggs (use 3 if they are really large 4 if they are smaller)
2/3 cup Heavy Whipping Cream
1/3 Cup Smoked Gouda Cheese (Grated)
1 Medium Onion (diced)
½ ea. Green Bell Pepper finely diced
½ ea. Yellow Bell Pepper finely diced
½ ea. Red Bell Pepper finely diced
½ pound Alligator Sausage.Diced (You can sub Andouille or smoked sausage if you can't find Alli)
1/3 Can Green Chili Peppers diced (I use the 4oz cans)
½ Pound Gulf Shrimp diced
Pinch of Salt
½ Tbs. Fajita Majic (or any other Southwest Fajita Seasoning)
½ Tbs. Chipotle powder
1. Mix breadcrumbs and Parm cheese, add melted butter and mix well. Press into a 10 or 12 inch spring form cheesecake pan. Bake 10 min in a 400 degree preheated oven.
2. Whisk cream cheese until smooth, add eggs, whisk, add heavy cream and Grated Gouda. And set aside.
3. Sautee vegetables with spices until soft. Pour off excess liquid if any. Add shrimp and cook until just done. Add Sausage and chili peppers and cook for 1 min. Fold this into cream cheese mixture. When done – pour this into the spring-form pan. (Wrap foil around the pan to prevent leakage)
4. Bake in a water bath (a 2 inch hotel pan filled approx 1/3) in a 450 degree oven for 1 ½ to 2 hours.
5. Remove from oven when and inserted knife is clean and the filling is set. Cool to cut
6. Remove from spring form pan – unlatch and VERY slowly twist as you lift – it should come right off with minimum tearing. Cut into 12 pieces.
3,862 total views, 1 views today

You may like these recipes too: