Carolina Pulled Pork Cups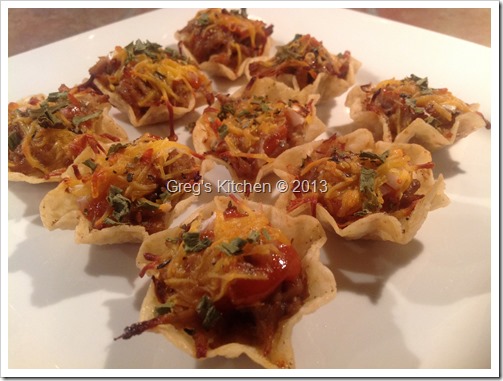 I thought it would be nice to have a little snack tonight and use up a few things I already had on hand.  So I used the left over Pulled Pork from dinner this past week.  So I grabbed some corn chip "dipper cups" and set off on a quick and easy appetizer.  My Carolina Pulled Pork Cups were born.  I've made pulled pork pizza before and to be honest that is the direction I was originally going with tonight snack.  But then I saw the corn chips and decided I'd like a bit of a crunch that they would add.  So y'all should do the same as I have.  Use up some of your leftovers and make new snacks and appetizers out of them.  You'll find that your saving a lot of food that you might throw out because you have only a small amount left of something.  You don't need much to make snacks and you'll be amazed at what you can come up with.
Tonight's treat had a great saltiness from the corn chips, sweetness and tanginess from the home made Carolina BBQ sauce and creaminess from the bit of shredded cheddar cheese I topped them with.  Unfortunately I didn't have any fresh chives so I had to resort to dried.  Y'all give these a try the next time you have left over pulled pork.  You can also use left over taco meat, chicken or any other protein you have just a bit of left over.
Ingredients
1/2 cup shredded pork
1/2 cup Carolina BBQ sauce
1/2 cup shredded cheddar
1 small shallot diced small
chives to garnish
24 corn chip dipper cups
Heat the pork so it doesn't take as long to bake them.
Spread the corn chip cups out on a baking sheet and fill with pork and about 1 teaspoon BBQ sauce.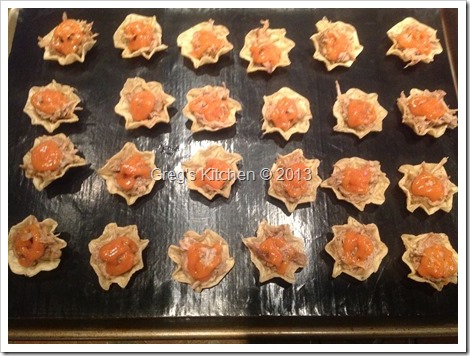 3. Top with the diced shallots.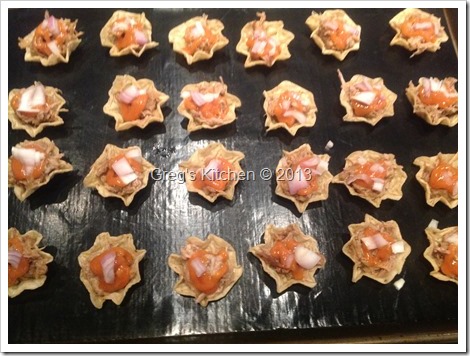 4. Add the shredded cheese. (as little or as much as you would like)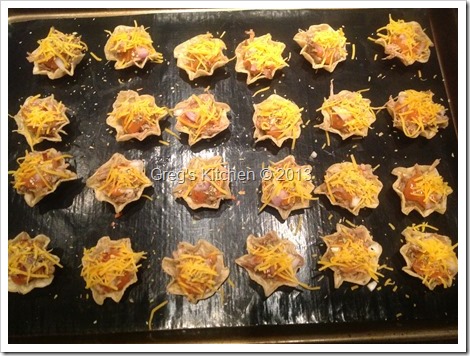 5. Bake in a preheated 350 degree oven for 15-20 minutes or until cheese is melted and bubbly.
  6. Sprinkle with chives and serve warm.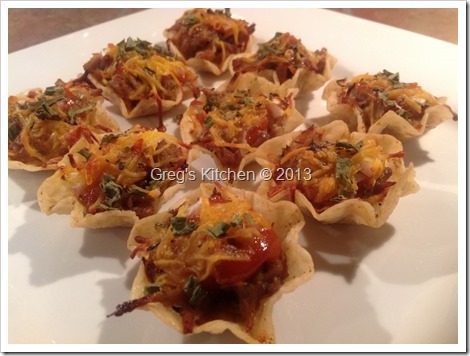 5,100 total views, 0 views today

You may like these recipes too: