Grandma Jeans Thanksgiving Turkey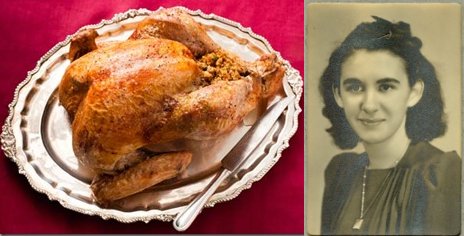 My Grandma Jean is the inspiration behind a lot of my recipes and especially at the Holidays.  Her picture above is her graduation pictures and one I treasure that she gave to me.  I can not be in the kitchen cooking with out thinking of her and the many weekends I spent in her kitchen out on the farm.
Thanksgiving was always a favorite family gathering.  Grandma Jean always made the most succulent turkey that was unlike any others. The breast meat was never dried out due to what she called her upside down roasting.  It never required cups full of gravy to moisten and taste good. I watched her make our family turkey for years, and now that she's no longer with us, it is my turn to carry on her tradition.
She also cooked the turkey or turkeys (we had a big family) with the stuffing separately, not in the cavity.  This makes it easier to cook the turkey more evenly, and lessens the chances of under cooked dressing with raw turkey juices hidden within. (That can really make you sick)   Of course she always had regular dressing and oyster dressing.  It took me many years to try the oyster dressing, but once I did I must say it was quite tasty.  I do still prefer my moms cornbread dressing over all others though.
So let's get on to how she did her turkey.  I actually had to change some things and estimate here and there because like most home cooks, she didn't have a written recipe, only her knowledge of years of doing it over and over again.  So here goes.
 15 to 20 pound turkey (grandma had a big family)
Salt and  Pepper
1/4 cup butter
4 stalks of celery
1 lemon: halved
1 large onion: quartered
4 cloves garlic: smashed
3 carrots
1 bunch of parsley
a few sprigs each of fresh rosemary, thyme
salt and pepper to season inside of turkey
1 tablespoon garlic powder
1 teaspoon onion powder
1 teaspoon salt
1 teaspoon pepper
Wash then season turkey cavity with salt and pepper.
Stuff turkey cavity with the celery, lemon, onion, garlic, carrots, parsley and herbs.
Place turkey, breast-side up on rack in large roasting pan. Melt butter to brush over turkey.
Mix the garlic powder, onion powder, salt and pepper and sprinkle over the turkey.
Cover loosely with foil.
Roast turkey covered  at 325° for 4 1/2 hours. Uncover; roast 1 hour longer or until meat thermometer reads 165°. ( baste the turkey with butter and drippings once an hour.)
Remove from oven and let rest on counter for 45 minutes to an hour to redistribute the juices.
38,606 total views, 0 views today

You may like these recipes too: