Southern Fried Pork Chops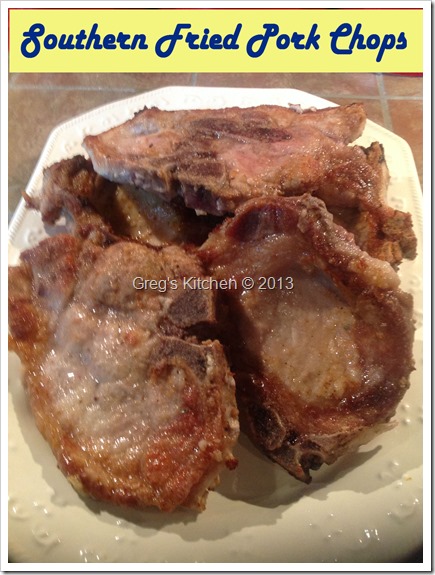 Growing up I can remember some of my favorite meals mom or my grandma's would make.  One of my favorites had to be when mom made fried pork chops, fried potatoes, fresh green beans out of the garden and apple sauce.  Of course the potatoes were out of our garden too and the apple sauce was always what she had put up the previous fall.   I doubt there was ever a store bought can of applesauce in our house.  Of course there never needed to be because there were shelves of her home made to get us through the winter and summer months.
Mom didn't bread her pork chops with a thick batter.  Just enough flour and seasonings to form a bit of a crust on parts of the chops, mainly around the outside.  This is still my favorite way of frying them to this day.  I know it is not the healthiest way of eating them, but it's not like I have them every day of the week.  Mostly about once a month or so.  It's a special treat to bring my memories back to my childhood.  Of course now a days, I like them with the fried potatoes, a big bowl of pinto beans, and cornbread.  Now that is a true southern meal.  How many of you remember this from growing up in the south.  Oh, sorry to those of you who didn't.  You sure missed out.
So here is my moms quite simple recipe for fried pork chops.  I think y'all are gonna love them as much as I do.
Ingredients
1 teaspoon salt
1 teaspoon pepper
1/2 teaspoon garlic powder
1 -1 1/2 cup flour
oil or lard (enough for about 1/2 in frying pan)
4 -10  pork chops
Directions:
 
Put the flour, salt, pepper and garlic powder in a paper bag or zip top bag and shake up to mix.
 
Put a couple of pork chops at a time in the bag and shake the well, remove and set aside. Do the same with remaining chops.
Heat the oil in a skillet when the oil is hot (about 300-350 degrees) put the chops in and fry about 5 to 10 minutes on each side, turning them every 2 to 3 minutes.
Once cooked, remove to a paper towel to drain.    You can keep them in a warm oven of 200 degrees to keep warm while finishing all chops.
2,354 total views, 1 views today

You may like these recipes too: