Jalapeno Cheddar Drop Biscuits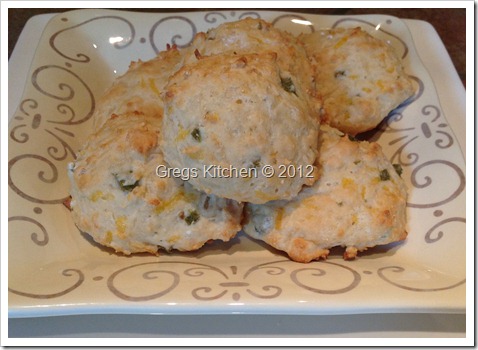 I'm sure y'all have had cheese biscuits at a restaurant every now and then.  Heck, many of you may make them yourselves.  Well if you want to put a little kick into that recipe just add some jalapenos.  I like to use my pickled jalapenos so the heat doesn't take over the taste of the biscuit.  Just enough flavor from them to intensify the flavor.  Give them a try and let me know what y'all think.
Ingredients:
2 C flour
2 t baking powder
1 t salt
1/2 C melted butter (one stick)
1 C milk
5 tbs pickled jalapenos, chopped
1 C shredded cheddar cheese
Preheat your oven to 425? and lightly grease a cookie sheet.
In a large mixing bowl, sift together your flour, baking powder and salt. Mix well and then add the melted butter, milk and jalapenos. Stir together, just a few times, to combine. Fold in your shredded cheese until just combined. Do NOT  over mix.
Drop spoonfuls of batter onto the cookie sheet and bake your biscuits for 10-13 minutes. Remove and Enjoy!
2,169 total views, 0 views today

You may like these recipes too: