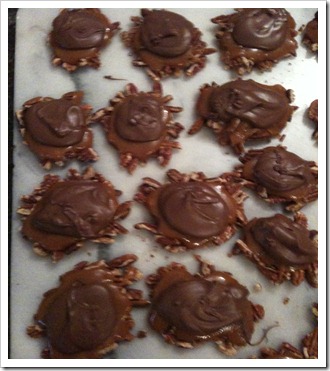 I discovered these little treasures the first time I went to Savannah.  Growing up on of our special treats was when mom would make "Turtles".  Basically, this is caramel and nuts coated in chocolate.  So when I saw these gophers at Savannah Candy Kitchen, I chuckled and thought they looked like inside out turtles.  I bought a pound of them and I think 1/2 a pound was gone before I got back to the hotel.   These things are slap your momma good.
Then last year I took my mom to Savannah and we got some gophers while we were there.  Yes, she fell in love with them too.  So on the drive back through Georgia to Ohio, we picked up a lot of pecans.  When we got to her house we of course made gophers.  Now let me tell you, they were gone before the caramel was completely cooled.
So tonight, after many friends on Facebook made suggestions on what I should make for my 25 Days of Christmas Recipes, I decided it was time to make gophers.  Y'all have to try these.  Of course you can order them from Savannah Candy Kitchen, or better yet, make them yourself.  You are going to love them.
Ingredients:
4 cups pecans chopped
2 bags chocolate chips (dark or white can be used too)
Spread pecans out on a cookie sheet, make the caramels according to above recipe.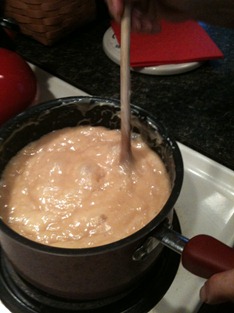 Melt the chocolate chips in a double boiler.
Spoon tablespoons full of hot caramel over the pecans.  Once caramel is cooled, spoon melted chocolate over the caramel.  Gently lift the gophers from the tray and place on another tray.  As you can see in the photos, I placed them on a marble cutting board to cool completely.
Group together remaining pecans on the cookie sheet and again top with the caramel and chocolate as before.  Continue process till all pecans are used.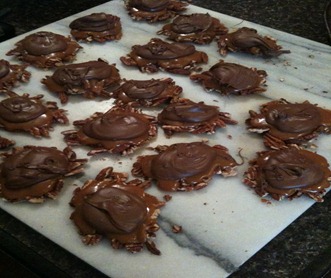 ENJOY!!!!
9,836 total views, 0 views today

You may like these recipes too: