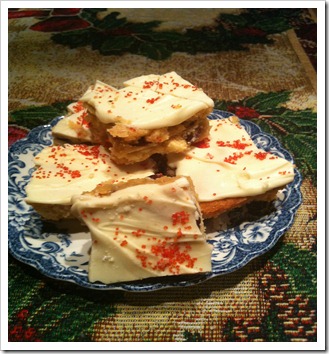 These are delicious.  My friend Andrea gave me the recipe this year for my Christmas recipe's.  One bite and I knew they had to be added to my Christmas cookie list.  Your going to love the cranberries and white chocolate taste together.
Ingredients:
1 cup butter, softened
1 1/4 cup packed brown sugar
3 eggs
1 teaspoon vanilla extract
1 + 1/2 cups flour
1 teaspoon ginger
1/4 teaspoon salt
1/2 cup dried cranberries, rough chopped
1/2 cup white chocolate chips
1/3 cup candied ginger, minced (optional)
White Chocolate Topping:
1 bag of white chocolate chips
Sprinkles or colored sugar
Directions:
1. Preheat oven to 350 degrees and grease and line a 9 x 13 inch pan with parchment paper.
2. Beat butter and sugar together until fluffy; add vanilla and eggs one at a time, beating well after each addition. Sift together flour, ground ginger and salt and beat in until fully incorporated. Batter will be thick. Fold in cranberries, chocolate and ginger. Spread the batter in the pan and bake for about 30 minutes or until light golden. Cool cake on wire rack and turn out.
4. To make the topping melt white chocolate in a double broiler or in the microwave; once it is smooth, use a spoon and spread over top of the cake. Sprinkle top of chocolate with colored sugar or sprinkles while still glossy. Cake is easier to cut when slightly chilled; and with a sharp knife, cut into squares, or triangles.
2,055 total views, 0 views today

You may like these recipes too: