Four Cheese, Pepper Jelly Cheese Cake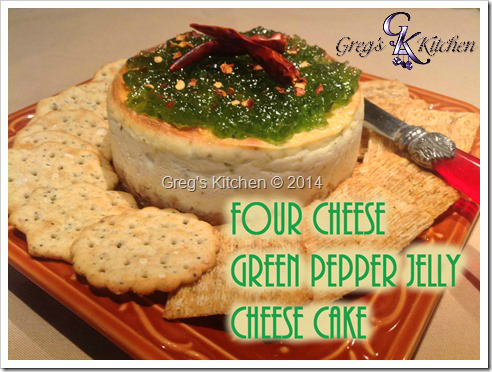 I love cheesecake.  I have become so addicted that I literally had to quit making them so I wouldn't have them to eat.  I mean there are so many ways to make a good cheesecake that you can never get tired of them.  Well my pants decided to tell me that I was eating them to often.  So I took a break from them.
Then I realized that I could make them with a bit less sugar, jelly topping and have a savory one with less calories.  Well after a bit of taste testing (which I love to do) I came up with this one that is wonderfully light and combines the bit of spice from the pepper jelly and the tanginess of the goat cheese.  Obviously it did not last to long.  I guess now I will start developing more savory cheesecake recipes for y'all.  Tell me what you think, and if you have any flavor ideas you'd like me to try.
Ingredients:
2/3 cup crushed crackers (I used Keebler® Club Crackers)
3 tablespoons unsalted butter, melted
Two 8-ounce packages cream cheese, room temperature
15-ounce container ricotta cheese, room temperature
4 ounces (1/2 cup) goat cheese, room temperature
5 tablespoons Parmesan cheese, divided
1 roasted red pepper, chopped (you can find in jars at your local market, or you can roast your own)
2 teaspoons sugar
1/2 teaspoon salt
4 eggs, room temperature
1/2 cup minced fresh basil leaves
2 tablespoons minced fresh thyme leaves
2 teaspoon red pepper flakes
Salt and freshly ground pepper, to taste
1/2-3/4 cup pepper jelly (I obviously used green)
Directions:
Process the crackers in food processor till coarsely ground.  Add melted butter and 1 tablespoon of Parmesan cheese.
Preheat oven to 350 degrees F.
Prepare a 6 inch cheese cake spring pan with not stick spray.  Then wrap outside of pan with aluminum foil. (we'll be putting this in a water bath and foil will keep water out of cheesecake)
Place the cracker mixture in spring pan and push down to form crust. I used the bottom of a glass to pack the cracker crumbs down.  Then bake crust for 10-12 minutes till just golden brown.  Remove from oven, reduce to 300 degrees and let crust completely cool.
In bowl of stand mixer combine the cream cheese, goat cheese, ricotta cheese, remainder of the Parmesan cheese and the roasted red pepper.  Mix on low until combined.  Now add sugar and salt and mix 2 additional minutes.  Leaving the mixer on low, slow add one egg at a time just until it is incorporated, then adding next.   Once all eggs are mixed in, add the basil, thyme and 1 teaspoon of the red pepper flakes.  Mix to combine and taste.  Add salt and pepper as to your taste.
Pour mixture into spring pan and then place entire pan into a large pan.  Add boiling water to come just up to about 1/2 way on the outside of pan.  Carefully place in oven as to not burn yourself with the hot water.
Bake for 45-50 minutes until just set.  Remove from oven and completely cool.
Spread pepper jelly on top of cheesecake and sprinkle with remaining red pepper flakes.  Serve with your choice off crackers or toasted breads.
5,344 total views, 0 views today

You may like these recipes too: