One of my favorite aunts, Carol, was also one of my favorite cooks.  Most of her dishes were low cost but packed full of flavor and fresh ingredients.  I can remember on of my favorite desserts was her Cherry Crisp.  She always loved to make home made desserts, and this was one of favorites.  She also liked to cook with molasses because it was one of my grandfathers favorite ingredients.  Looking at her recipe, it looks like you could probably substitute the molasses and half a cup of sugar for brown sugar.  Basically that is all brown sugar is, so if you have no molasses you can use brown sugar in place of it and 1/2 cup sugar.
So I started with a large bag of fresh cherries and started cutting and pitting.  By the time I was done, my hands looked like I had been doing heart surgery.  Even after washing, they have a light red tint to them….LOL.
I really like the salty and sweet together, so I substituted 1/2 cup crushed pretzels for 1/2 cup of the oats.  If you like, you can just use a whole cup of oats.
Ingredients
1 cup granulated sugar
1/4 cup, plus 4 tablespoons all-purpose flour
5-6 cups pitted dark cherries/halved
1/2 cup quick-cooking oats
1/2 cup crushed pretzels
2 tbs. molasses
1/4 cup butter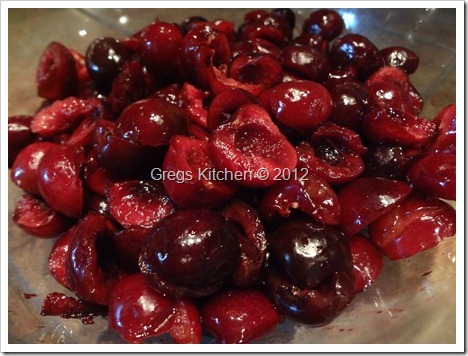 Directions
Preheat the oven to 350 degrees F.
Butter 9" cast iron skillet or a 9 by 9-inch baking pan.
In a large bowl, combine the 1/2 cup sugar and the 4 tablespoons flour.  Mix this very well and then add the halved cherries, tossing in mixture to coat. Pour this mixture into the prepared skillet/pan.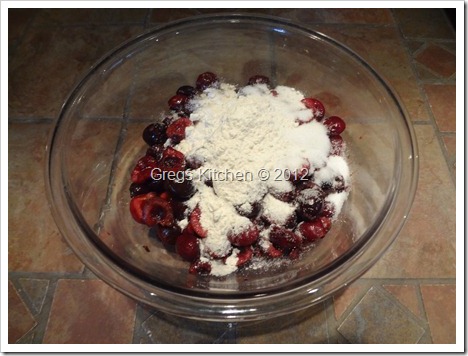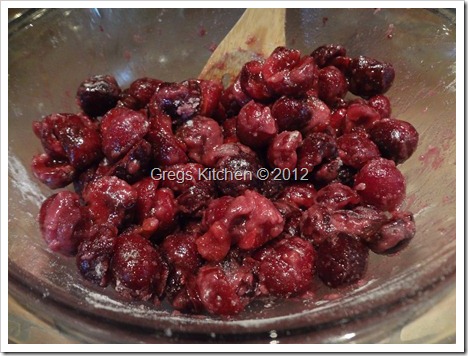 in a zip lock bag, crush your pretzels.  Then in a medium bowl, combine the oats, pretzels,  remaining 1/2 cup sugar, molasses, and remaining 1/4 cup flour. Using a fork combine ingredients well and then pour  in the melted butter until the mixture is crumbly.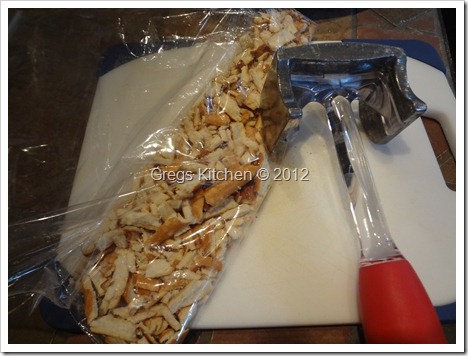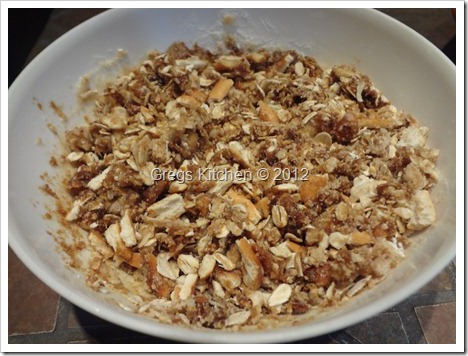 Sprinkle evenly over the coated cherries.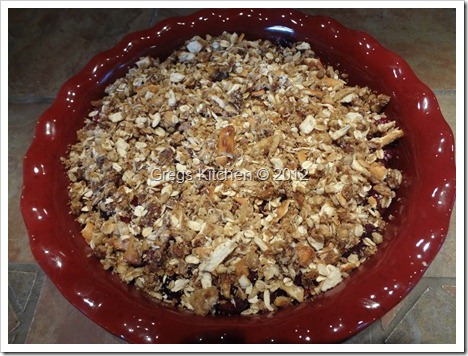 Bake for about 30 minutes  Cherries should be bubbling up through the browned topping.
Let stand for 15 minutes before serving, and top with a big dip of ice cream.
Thanks Aunt Carol.
1,924 total views, 0 views today

You may like these recipes too: