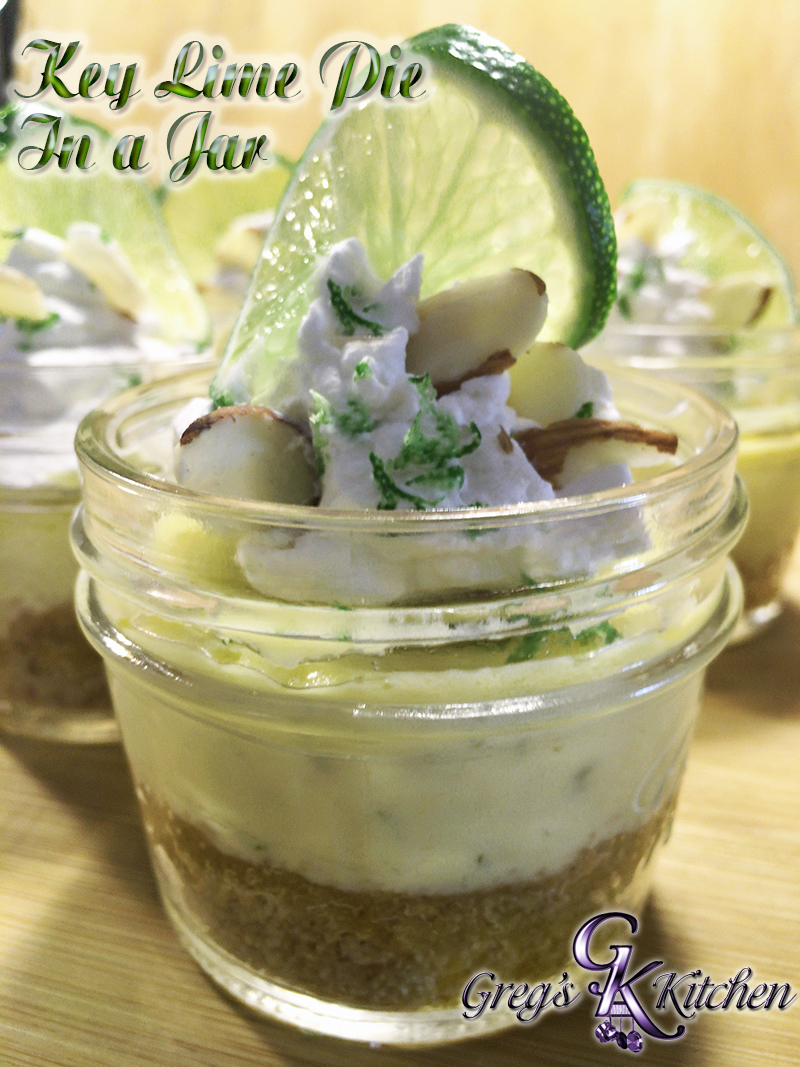 Let me tell y'all something.  Key Lime pie is the creamiest and tartest pie you can ever make.  I always find myself eating to large of a slice (or two).  So after seeing this wonderful pie made into small versions in jars, I decided to try them myself.  It will help make sure I limit the size of my servings.
Just grab yourself a spoon and dip all the way to the bottom with each bite.  You will be rewarded with the creamiest/tartest bite.  The whipped cream (fresh made is best) will cut the tartness just enough for you to dive back in for second bite before the first is gone.
Let me know what y'all think.
INGREDIENTS:
Crust
1 cup graham cracker crumbs
3 tablespoons sugar
3 tablespoons butter, melted
pinch of salt if using unsalted butter
Pie filling
14-ounce can sweetened condensed milk
1/2 cup fresh key lime juice (or regular lime juice if not available)
3 egg yolks
zest of 4 key limes (or 1 lime)
Topping
Whipped cream
Lime slices
Slivered almonds
Preheat oven to 350 degrees Fahrenheit.
Place 8   4 ounce mason jars on a baking sheet
Put graham cracker crumbs, sugar and salt in bowl and mix with fork.  Drizzle with butter and mix completely.
Spoon mixture into jars, divided evenly. Every so slightly press graham cracker mixture into jars.  Don't push hard like you would a regular pie or the crusts will be to hard to spoon out
In a medium bowl put the sweetened condensed milk, lime juice, egg yolks, and lime zest. ( I cheated and used a large 8 cup glass measuring cup so it was easy to pour into jars)
Whisk until all ingredients are well-combined.
Dividing the mixture evenly into the jars.
Bake for 15 minutes.  The filling should no longer jiggle when cooked.  If necessary, add an additional minute or two.
Remove from oven and let cool for about 30 minutes.
Cover with lids and refrigerate for at least two hours, until chilled.  Make sure they are cool or they will sweat and build up on pies.
Top with whipped cream, a lime slice and almond slivers to serve.
Keeps for up to three days in the refrigerator.
21,222 total views, 0 views today

You may like these recipes too: