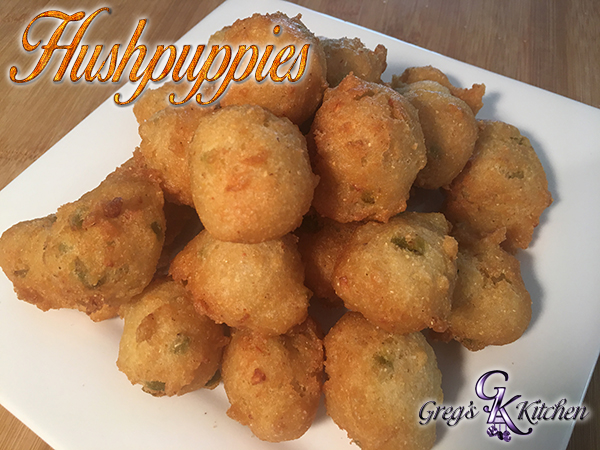 Have you ever got a craving for something that you knew was just not going to go away until you had it?  Well that is exactly what happened to me today.  I watched my friend Paula's podcast this morning.  Well today she talked about hushpuppies and fried fish.  Now as y'all might remember.  I have been being quite careful with my diet lately.  I've been cutting out as much sugar as possible, processed foods and well, fried foods.
Well thank you very much Ms. Paula.  Because today became a major cheat day for me thanks to her podcast.  I was immediately taken back to last July in Key West.  Our group of friends had all gotten together for dinner.  When we arrived I was immediately drawn to the smells of hushpuppies frying away in the kitchen.  My friend Ben was busy cooking both hushpuppies and fish that some of the other guys had caught earlier that day.  Well I was immediately popping these golden fried treats every chance I got.  They have always been one of my secret treats.
So today I got a double punch on what I was going to have for dinner.  Like it or not, my diet was going to be dead for a few hours.  So on the way home from work I got Ben's recipe and stopped to get what I needed.  Oh, and since I was making hushpuppies, I might just as well have the fried fish as well.  So tonight I was having a bit of a memory trip back to our summer dinner in Key West.
So now I share with you all Ben's recipe for his hushpuppies.  He's told me that it was actually his grandma Macks recipe.  One I am sure he treasures as much as I do my grandmother's recipes.  I did make one small addition which he agreed would be good.  I added some pickled chopped jalapenos.  As you know, I love spice.  They added the perfect touch.  Of course y'all can leave them out if you don't like the heat.
Ingredients:
1 cup corn meal
1/2 cup flour
1 tablespoon (heaping) sugar
1/4 teaspoon salt
2 teaspoons baking powder
3/4 cup milk
1 egg
1 medium onion
Mix dry ingredients with milk.  Mixture will be thick.
Add onion and egg and beat. ( I added 2 tablespoons of pickled, chopped jalapenos at this point too)
Refrigerate batter all day. (Ben said this is an important step, at least 3 hours)
Drop chilled batter from a small spoon into deep fat.
Cook over medium heat (I used 350°) for 3-5 minutes or until golden brown.
ENJOY!!!!
Here's a picture of Ben's hushpuppies that night in Key West with our friends Shane and Paula in the background.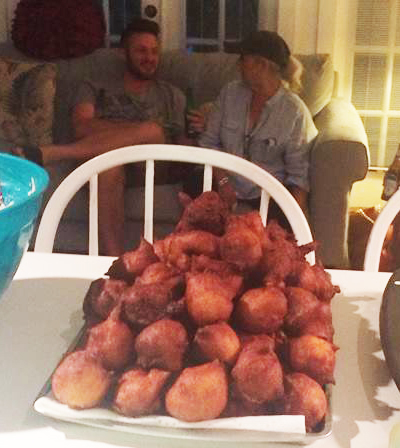 224,644 total views, 0 views today

You may like these recipes too: