Slow Cooker Chicken & Dumplings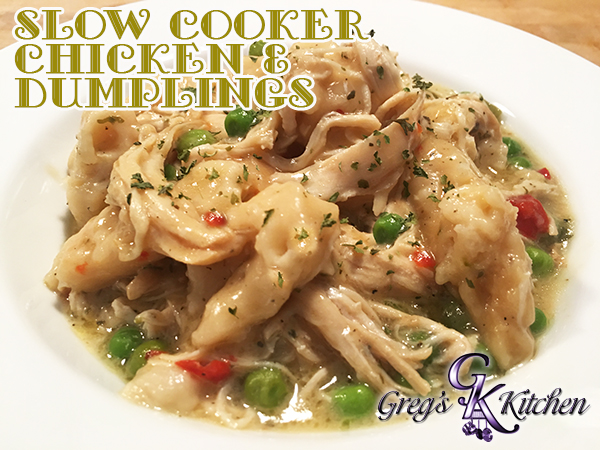 Last week a saw a friend share a recipe on Facebook for Chicken & Dumplings made in a slow cooker using refrigerator biscuits as dumplings.  Now I have never even considered making dumplings in any way other than how my mom made hers, or my buddy Trina made hers.  I just couldn't wrap my head around using biscuits in a tube as dumplings.
I have always been a from scratch cook.  That's just the way I was brought up by my mom, aunt Carol and my grandmothers.  I have lately been trying to put together new recipes utilizing some pre-made or store bought items.  Now a days we all need some short cuts due to less time we get to spend in the kitchen.  So you may see me using refrigerator pie crusts (don't tell mom) or canned fruit pie fillings for example.  There are many great items out there that will shorten our cooking or prep times.
Well then I was talking to a friend about the cooler weather actually making it's way to Florida this coming week.  I mentioned it's about time to make my cool weather favorites.  He mentioned chicken and dumplings.  Well of course that is my first go to comfort meal when the weather changes.  I grew up on this meal and it has always been a family favorite.  I can't remember one family holiday get together that mom was not asked to bring them.  But then he mentioned that he saw the same recipe on Facebook that my friend Leland had shared the week before.  So now I am thinking.  Is this a sign that I should try this way of making them?  Why not.  it would be a perfect recipe for anyone without the time my regular recipe takes.  So I made a few changes to meet my choice flavor profile and here's what I came up with.  I will not say they are as good as moms or Trina's chicken & Dumplings, but they are quite tasty and an easy way of doing them.
Ingredients:
1 yellow onion diced
1 green pepper diced (I had part of a green and red left over so I used both)
3 chicken breasts- skinless/boneless
1/2 teaspoon salt
1/2 teaspoon pepper
1 teaspoon garlic powder
1 tablespoon basil (dried)
1 can cream of chicken soup
1 can cream of celery soup
1 tablespoon dried parsley
2 cups (plus more) chicken stock
1 can buttermilk biscuits
1 cup frozen peas
1/4 stick butter cut in pats (optional)
Directions
Dice the onion and pepper and place in bottom of slow cooker
Place the chicken breasts on top of the peppers and onions
Season with salt, pepper and garlic powder
Combine the two soups along with the dried parsley in bowl and then spread over chicken.
Now pour the chicken broth over the mixture and place cover on slow cooker.
Turn slow cooker on High and cook for 4 hours.
Remove chicken and shred (keep cover on slow cooker while doing this)
Take each biscuit and roll out to about a 1/4 inch thickness.  Sprinkle the biscuits and rolling pin with flour to keep from sticking.
Slice the biscuits into 1/2 inch strips and lay aside till all are finished.
Sprinkle the strips with some flour to keep from sticking and toss.
Return the chicken to the slow cooker along with the biscuits strips and peas.  Try to mix them up a bit so they are well mixed as you put them in.  
Return cover to the slow cooker and cook an additional 1 hour.
About 30 minutes into cooking, check to see if it needs more chicken stock depending on your desired thickness.  Add 10 minutes to cooking time if you add more chicken stock.  I add the butter at this time.
Remember to keep lid off as little as possible or you will increase the cooking time needed to finish.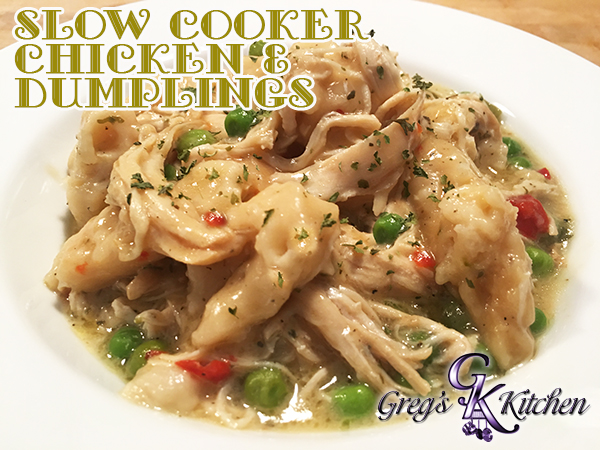 119,175 total views, 63 views today

You may like these recipes too: