Well, I put in a few more Roma tomato plants this year than last.  I love their meatiness, and of course they are so much better for sauces in my opinion.  But I like to do more than make sauce with them.  I like oven roasting them for different dishes( like my chicken parmesan)  and to even put in jars with olive oil for use later on.  So here is how I oven roast mine.  It is so easy to do and you are rewarded with such great tasting roasted tomatoes.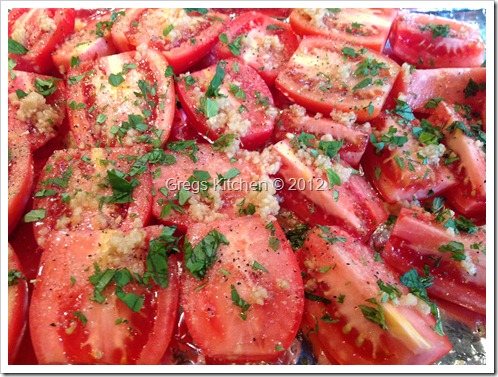 Half or quarter length wise about 20 Roma tomatoes. (you can do this with regular or cherry tomatoes too)  Spread out on a tin foil wrapped cookie sheet.  Sprinkle with salt, pepper and minced garlic.  Drizzle with olive oil and then sprinkle on the chopped oregano.
Roast in a preheated 225 degree oven for about 3 hours.  You are going to just love the smell of these red beauties roasting away.
You can change it up with your own favorite herbs such as rosemary, basil, or thyme.  As I always say, mix it up a little.  Try different things and make it your own.
Ingredients:
20 Roma Tomatoes
4 large garlic cloves minced
1 teaspoon salt
1 teaspoon pepper
2 teaspoons fresh oregano (or your favorite)
olive oil (enough to drizzle over tomatoes and make them shine)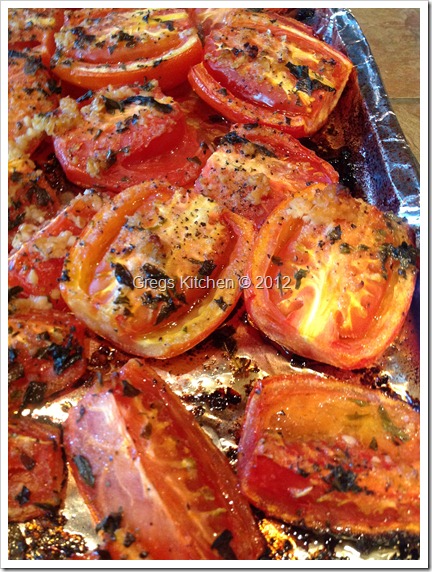 1,961 total views, 0 views today

You may like these recipes too: