Caramel Praline Bread Pudding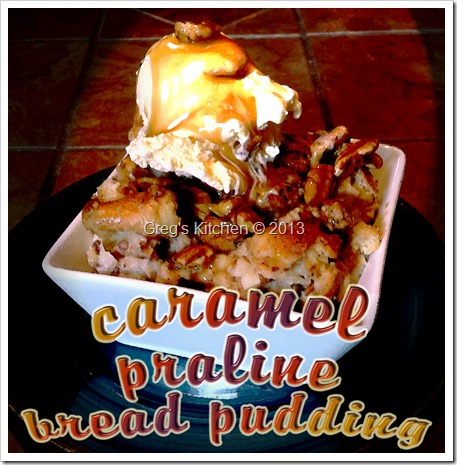 I decided today to come up with a new bread pudding recipe.  I do believe I have a winner.  Served hot with or without Ice Cream, you are going to love this one.  Let me know what y'all think.
Ingredients
3 cups milk, divided
5 eggs
1/3 cup sugar
1/8 teaspoon salt
1 teaspoon vanilla extract
3 tablespoons and 3/4 teaspoon butter, softened
1 loaf cubed French bread
1/4 cup chopped pecans
TOPPING:
3 TB butter melted
1/3 cup flour
1/2 cup brown sugar – packed
PRALINE SAUCE:
3 TB water
1/4 cup packed brown sugar
2 TB and 1 teaspoon corn syrup
1/4 cup coarsely chopped pecans
1/2 teaspoon vanilla extract
1 TB butter
Dash salt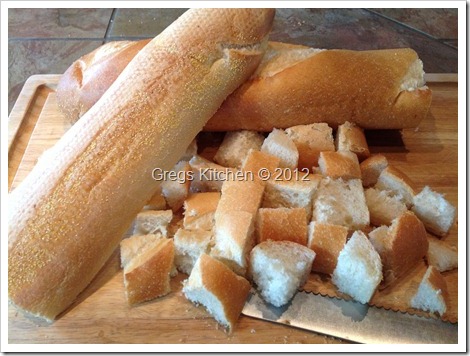 Directions
In a saucepan, heat 2 cups of milk until warm; set aside.
In a large mixing bowl, combine remaining milk, eggs, sugar, salt and vanilla.
Gradually add warmed milk, stirring constantly.
Stir in butter.
Add bread cubes to prepared 9 x 9-in. x 2-in. baking pan
Sprinkle with pecans if desired.
Pour the milk/egg mixture over the bread and let sit for 20 minutes
Combine the ingredients for topping in small bowl and then sprinkle over top.
Bake at 400 degrees F for 40-45 minutes or until a knife inserted in center comes out clean.
Meanwhile, for sauce, bring water to a boil in a saucepan. Add sugar; stir to dissolve. Add corn syrup. Bring to boil; cook 15-20 seconds. Remove from the heat; add remaining ingredients. Cut pudding into squares and serve with sauce.
Our finished bread pudding: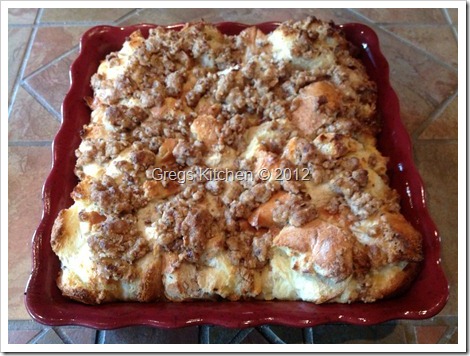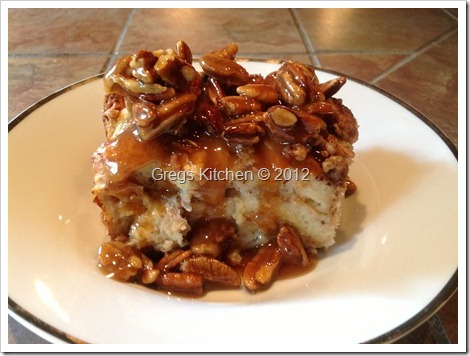 2,446 total views, 1 views today

You may like these recipes too: