Chicken Cutlets Over Garlic Parmesan Creamed Pasta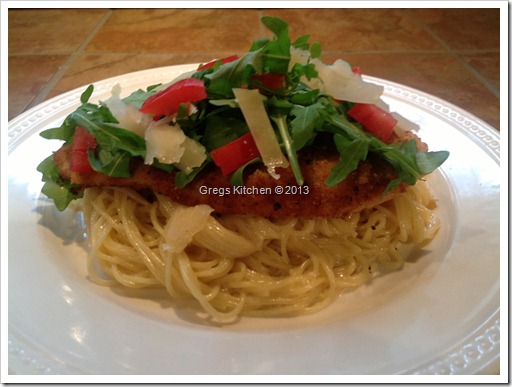 Well tonight I decided to try something different.  I like to stop at the supermarket each night to see what I can find freshest to make for dinner.  Well the butcher was putting out some fresh chicken breasts into the display case when I was walking by. They looked really fresh and I decided they would be dinner.  So it was off to find something to go along with the chicken.  In the vegetable section I found some beautiful fresh baby arugula and decided that the peppery taste would be great if I made the chicken breasts into cutlets and served it over pasta.
Y'all, the texture of the chicken against the creaminess of the pasta was astounding.  I think this is a winner and will become part of my dinner lineup more often.  Let me know what you think.
Ingredients:
Chicken:
2 chicken breasts sliced into 4 cutlets
1 cup buttermilk
4 tablespoons hot sauce (optional)
1 cup flour
1 1/2 cups Italian bread crumbs
1 teaspoon salt
1 teaspoon pepper
1/4 cup canola or vegetable oil
After cutting your chicken breasts into cutlets, place between two pieces of plastic wrap (or use a large zip top bag slit down both sides and place chicken between) and pound to about 1/4 inch thickness. Now make yourself a dredging station with 3 bowls.  Place flour, salt and pepper in one, place buttermilk and hot sauce in second and the Italian bread crumbs in third.

Dip your cutlets in flour first, this helps keep the buttermilk attached to chicken.  Now shake off excess flour and dip in buttermilk mixture.  Let excess buttermilk drain off and then dip into and coat with bread crumbs.  Do this with each cutlet and place in a heated sauté pan with the heated oil.  Cook on both sides for about 2 minutes and lightly browned.
Pasta Sauce
2 tablespoons butter
1 cup heavy cream
2 garlic cloves minced
1/3 cup shaved Parmesan cheese
1/2 teaspoon salt (more or less to taste)
1 box angel hair pasta (cooked)
Arugula salad
Fresh arugula
1 plum tomato diced
Shaved Parmesan cheese
Melt butter in medium sauce pan.  Add garlic and cook for about 2 minutes.  Watch closely so garlic doesn't burn.  Add cream and mix well, cooking an additional minute or two.  Add Parmesan cheese and salt and mix well.  You can add more salt to taste if you like.  Cook for about 5 minutes on medium low to thicken.  Add pasta and toss to coat. 
Plate with pasta layered with a chicken cutlet.  Then top with arugula (diced tomatoes if you like) and shaved Parmesan cheese.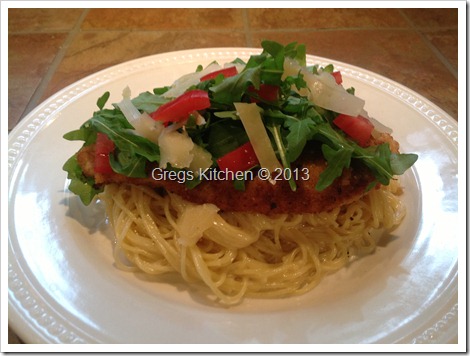 2,348 total views, 0 views today

You may like these recipes too: