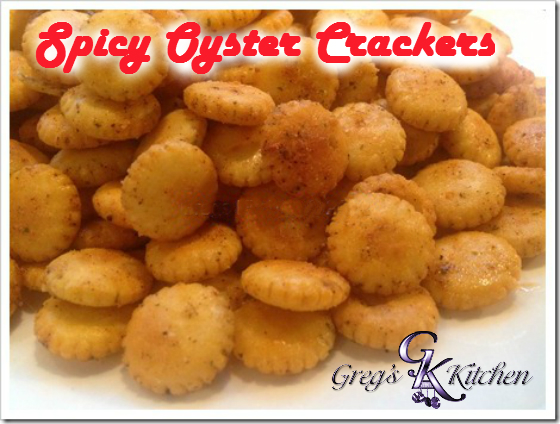 Y'all, these little gems are addictive.  A friend shared a recipe for them with me using saltines and a dry spicy dressing mix, but I decided to change it up a bit and use oyster crackers and my own seasonings.  You can substitute saltines as well and change up the spices to whatever you like. You also do NOT have to bake these at all.  The first time I made them I thought I would end up with a bag of mushy crackers, but nope.  They came out so crisp and tasty.  I think I ate most of them that first night I made them.
So here is my version.  I hope y'all enjoy these little gems.
Ingredients:
2 large bags of oyster crackers (or 4 sleeves(a full box) of saltine crackers)
1 1/3 cup veg. oil (I used light olive oil)
4 tablespoons crushed red pepper
1 teaspoon garlic powder
1/8 teaspoon cayenne powder (optional)
1 teaspoon onion powder
1/2 teaspoon black pepper
2 packages dry ranch dip and dressing mix
1 plastic ziplock 2 1/2 gallon bag
Mix all ingredients thoroughly and pour into 2 1/2 gallon plastic bag, then add saltines, toss gently to prevent breaking the crackers. Let sit, and turn every hour, then let set overnight.
16,422 total views, 0 views today

You may like these recipes too: