Tomato, Basil and Garlic Bruschetta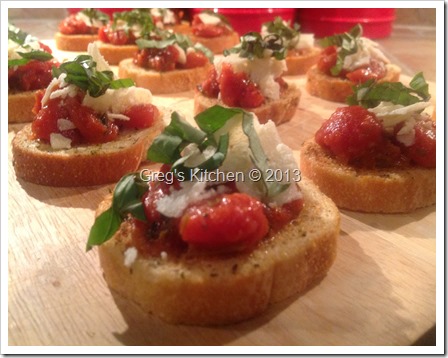 This is one of my favorite appetizers.  I love trying different ones at restaurants when I am out for dinner to see what kinds of things they add to theirs.  Mine is so easy and I think has the best taste.  I make this anytime I have fresh tomatoes, to snack on.  Just toast up some bread slices and you have a quick and delicious snack.
Ingredients:
6 or 7 ripe plum tomatoes (meatier than regular tomatoes)
2 cloves garlic, minced
2 Tbsp. extra virgin olive oil
1 teaspoon balsamic vinegar
6-8 fresh basil leaves, chopped. (2 tablespoons dry)
Salt and freshly ground black pepper to taste
Shaved Parmesan to garnish
2-3 leaves basil chiffonaded to garnish
Par boil the tomatoes and then drop in ice water for 30 seconds.  Take out of ice water and remove skins from tomatoes.   Now, dice your tomatoes, removing any seeds, and place in a bowl.  Mince the garlic very small and add to the tomatoes.  Toss with the oils and basil leaves.  Salt and pepper to taste.  Let sit for a good 30 minutes or so for flavors to marry.
I like to toast up some French bread slices under the broiler brushed with olive oil and a little sea salt to serve the bruschetta on.  Garnish with the Parmesan and chiffonaded basil.
4,078 total views, 0 views today

You may like these recipes too: