My family begs me to make this creamy baked dish every Thanksgiving and Christmas. What makes it so good is the pecan topping!  What's odd is I did not grow up eating this recipe.  My mom and grandma's always topped their sweet potato's with marshmallows.  For some reason, I was not a fan of that particular recipe.  Then as an adult I got this recipe.  Funny, I got it from my mom.  Now it is my go to recipe, and is the dish that is always gone to first at the Thanksgiving table.  Try it and I'm sure it will become your new tradition.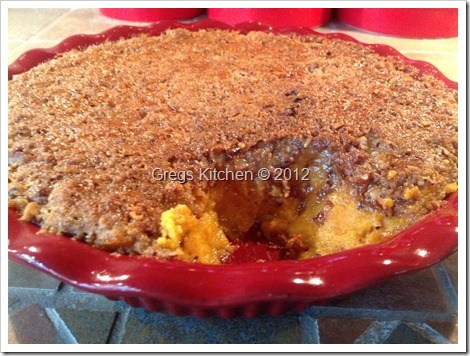 Ingredients
4 cups sweet potato, cubed
1/2 cup white sugar
2 eggs, beaten
1/2 teaspoon salt
4 tablespoons butter, softened
1/2 cup milk
1/2 teaspoon vanilla extract
1/2 cup packed brown sugar
1/3 cup all-purpose flour
3 tablespoons butter, softened
1/2 cup chopped pecans
Directions
Preheat oven to 325 degrees F (165 degrees C). Put sweet potatoes in a medium saucepan with water to cover. Cook over medium high heat until tender; drain and mash.
In a large bowl, mix together the sweet potatoes, sugar, eggs, salt, butter, milk and vanilla. Mix until smooth. Transfer to a 9×13 inch baking dish.
In medium bowl, mix the sugar and flour. Cut in the butter until the mixture is coarse. Stir in the pecans. Sprinkle the mixture over the sweet potato mixture.
Bake in the preheated oven 30 minutes, or until the topping is lightly brown.

You may like these recipes too: