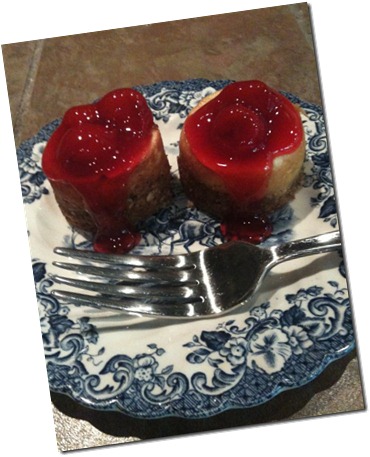 Happy Sunday everyone.  Well anyone who really knows me, knows today is NASCAR raceday for me.  We always get together with Michaels Aunt Holly and watch the races throughout the entire season.  Of course, Holly usually always comes early and we have either lunch or dinner, depending on the time of the race.  Somehow it always ends up being something southern and almost always includes cornbread for her.
Then during the race we always need something to snack on.  Well, last week I bought some new mini-cheesecake pans that I just had to put to use.  So today was the day.  After cleaning up the kitchen from our lunch of pork chops, fried potatoes, onions & cabbage, fried corn, and of course Holly's cornbread, I broke out the Kitchen Aid mixer and went to town.
Michael and Holly went a little crazy when I brought them each 3 of these little cheesecakes.  I only made 24, and have a feeling they'll be gone before the day is over.
I doubled the recipe since I have 2 pans….
Cherry Cheesecakes
1 8 ounce package of cream cheese
1 egg
1 teaspoon vanilla
1/4 cup brown sugar
1/4 cup sugar
1 cup ground pecans
1/3 of a stick butter melted
3 T sugar
1 can cherry pie filling
Preheat oven to 375
Spray pan with nonstick spray. Blend cream cheese, egg, 1/4 cup sugar and vanilla. Set aside. Mix ground nuts with butter and brown sugar.  Then divide the nut/butter/sugar mixture between 12 mini cups. Press in bottom and up sides. (I used a shot glass for this and it worked great)  Fill cups as evenly as possible with cream cheese mixture so they bake evenly. Bake about 16 minutes.  Take from oven and let cool on rack about 20 minutes and then remove from pan.  They will deflate some and pull away from the sides, making it easy to remove.  Once out, I use a small paring knife to slice between the bottom of the nut mixture and the metal bottom.
Place cherries on top and refrigerate until ready to serve.
These also freeze really great without the cherries on top.  Just take them out and thaw, and add the cherry mixture.
Makes 12 miniature cheesecakes.
2,082 total views, 0 views today

You may like these recipes too: