White Chocolate-Macadamia Nut Jubilees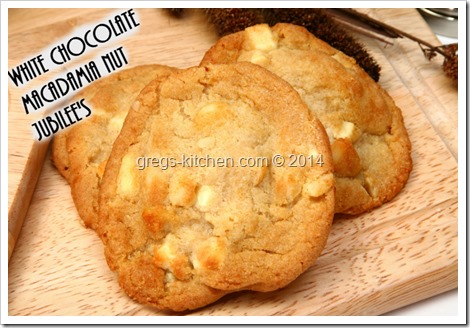 This recipe is totally inspired by one of my favorite ladies.  My buddy Dion gave me this idea and the basic ingredients from a cookie she had in the past.  I practice a bit with the ingredients finding that once I put the dough in the refrigerator I came up with the perfect combination of a crisp outside with a creamy chewy inside.  The combination of the white chocolate, macadamia nuts and coconut give the cookie quite a tropical taste.
So here you go Dion.  Your cookies with nothing fancy that you can not do.  I hope you enjoy them.
Ingredients:
2 1/4 cups all-purpose flour
1 teaspoon baking soda
1 teaspoon salt
1 cup (2 sticks) butter, softened
1/2 cup granulated sugar
1 cup packed brown sugar
1 teaspoon vanilla extract
2 large eggs
1  12 ounce bag of white chocolate chips
1 cup macadamia nuts – chopped
1/2 cup sweetened coconut flakes
Directions:
Heat oven to 375 F.
In the bowl of your stand mixer, beat butter, granulated sugar, brown sugar, vanilla, and salt until creamy. Add eggs one at a time and combine well.
In a separate bowl, stir together flour, and the baking soda and then gradually add to butter mixture in thirds,beating until each addition is well blended.
Combine in a bowl or bag the  white chocolate chips, coconut and macadamia nuts and mix well so when you add them to the mixture they are evenly distributed.  Now add this mixture to the cookie dough and mix thoroughly.  Put mixture in refrigerator for about 20-30 minutes.   This will keep the cookies from spreading out to much by resetting the butter in the mixture.
Drop by rounded teaspoons onto ungreased cookie sheet. Bake 8 to 10 minutes or until set. (Edges are golden brown and center is set.)
Cool slightly before removing to a wire rack to cool completely.
2,198 total views, 1 views today

You may like these recipes too: