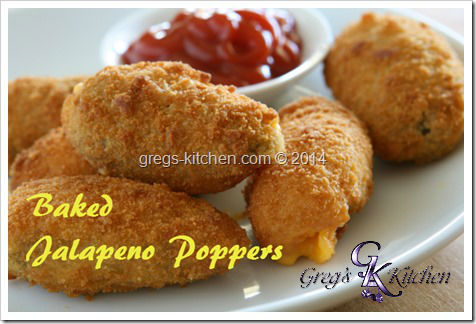 Fresh halved jalapeno peppers stuffed with sharp cheddar and Monterrey Jack cheeses, and bacon, and seasoned with garlic powder and salt. Jalapeno's are rolled in breadcrumbs and baked until golden brown.
Ingredients –
1 pound Fresh Jalapenos, halved and seeded
1/2 cup Breadcrumbs
Filling:
1 (8 ounces) package Cream Cheese
1 cup shredded Sharp Cheddar Cheese
1 cup shredded Monterrey Jack Cheese
6 slices Bacon, cooked crisp and crumbled
1/4 teaspoon Salt
1/4 teaspoon Garlic Powder
Preparation:
1. Preheat oven to 300 F.
2. In a medium mixing bowl, combine cream cheese, cheddar, Monterrey jack, crumbled bacon, salt, garlic powder. Mix well.
3. Fill each jalapeno half with an equal amount of filling.
4. Roll jalapenos in breadcrumbs.
5. Place jalapenos on non-stick or greased baking sheet.
6. Bake 20 minutes.
8,653 total views, 1 views today

You may like these recipes too: