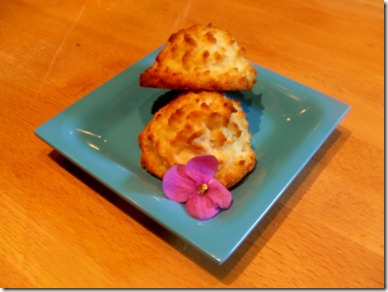 Folks, I have been making these beautiful, tasty treats for a few years now.  But somehow, I hardly ever get to eat very many.  One of my best friends here in Tampa always seems to get most of them.  Not that she takes them, I freely give them to her, but she can make a person feel really guilty for not giving them to her.  She got her first taste of them when I was living next to her and she came over one day because of the heavenly smell leaking out my windows.  Since that day, she has been hooked.  I now basically call these my J.T. Macaroons because I rarely make them without having her in mind to give them to.  I use flour in my recipe to give it a more cake like consistency.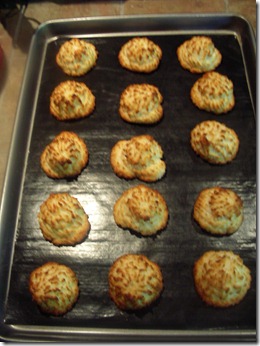 Ingredients
1 pkg. (11 oz) Sweetened Flake Coconut
2/3 cup sugar
8 Tbsp. flour
1/4 tsp. salt
4 egg whites
1/2 c. water
1 tsp. vanilla extract (you can use almond if you like)
In a double boiler, mix your egg whites, sugar and salt till they are warm and smoothly whipped, then remove from heat and mix in the remaining ingredients.
Then I use a pastry bag with the largest star tip and squeeze out about a half dollar sized circle onto baking sheet.
Bake at 325F. for about 20 minutes. Keep an eye on them incase your oven cooks quicker, you don't want to burn these beauties.
Let cool slightly before removing to wire rack.
Now you can dip these tasty treats into some chocolate which is a heavenly way of finishing them off, but I like them just the way they are.
Enjoy!
2,550 total views, 0 views today

You may like these recipes too: