Moose Tracks Ice Cream Bread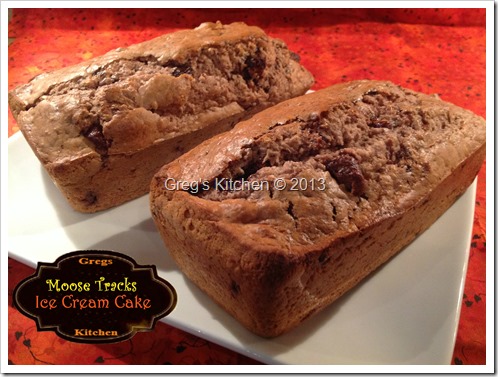 So, last night my wonderful friend Ladonna shared a recipe with me.  I looked at it and gave a bit of a chuckle.  Y'all, it was for "Ice Cream Bread".  Now I am not talking something like those ice cream cakes you get for kids birthday parties.  I am talking about ice cream being one of the ingredients.  Oh and did I mention there is only one other ingredient?  Self rising flour.  You heard correctly.  A two ingredient bread.  I just knew it had to be a joke.  Then I started giving it some thought.  What does ice cream have in it?  Milk, eggs, sugar and vanilla?  Well that sounds like some of the ingredients I would put in breads like my Banana Nut Bread recipe.  You know what?  I think this might be a real recipe.
So on the way home tonight I stopped by the grocery store and grabbed a half gallon of ice cream.  Now I wasn't going to buy just an ordinary vanilla or chocolate.  I wanted to try something with some kick.  So as I was looking through the freezer case I came upon Moose Tracks Ice Cream.  I thought to myself, well if the bread doesn't turn out, I can just eat the rest of the ice cream so I might as well get something good.
I didn't need to eat the ice cream.  The bread was great.  I will admit that I think it should be a bit sweeter.  I will probably add a couple tablespoons of sugar in the next batch I make.  But yes, this is an amazingly easy and tasty two ingredient bread.  I am sure I'll be experimenting with many more flavors very soon.  So now get your pen and paper and make sure you write down these very important ingredients:
2 cups ice cream melted
1 1/2 cups "self rising" flour
That's it.  Nothing more.
Mix the two ingredients together in a large bowl just till they come together.  Don't over mix or you'll end up with a tough bread.
Pour in a prepared 4×9 bread pan and smooth the top flat.
Bake for 45 minutes at 350 degrees or until a toothpick comes out clean.
Oh….Thanks for the cool recipe Ladonna.
4,029 total views, 1 views today

You may like these recipes too: