Spicy Sausage and Lentil Soup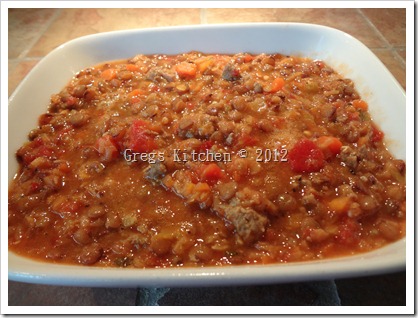 Y'all, I just love lentils.  They are my second favorite bean next to pinto's.  I've made them as a side dish with some fresh herbs, but my favorite is in soup.  I utilized my home made country sausage for this recipe.  I had froze it in 1 pound batches, so I just pulled one out of the freezer this morning.  I tried to spice this one up a little bit, so if you want, you can leave out the cayenne and red pepper flakes to bring it down on the heat scale.  I also used POMI diced tomatoes to bring down the sodium level.  POMI only has about 5mg of sodium per serving as compared to normal canned diced tomatoes at 220mg sodium per serving.
Just a heads up.  We all taste our recipes as we cook them to make sure they're seasoned correctly.  Be careful.  I think I ate a bowls worth just taste testing it.  It turned out so much better than I had imagined.  Y'all enjoy, and let me know what you think of it.
Ingredients:
1 lb. bulk sausage (I prefer Purnell's "Old Folks" Sausage)
2 cups lentils
32 oz. chicken stock (I used home made)
1 teaspoon cayenne pepper
2 teaspoons red pepper flakes
1/2 teaspoon fresh ground ginger
3 stalks celery (plus tops)
2 large carrots
2 garlic cloves
In large stock pot or Dutch oven, brown your sausage. While browning, dice your carrots and celery in very small pieces.  I actually ran mine through the food processor.  Remove browned sausage from pan and saute the carrots and celery till tender.  Add in the garlic cloves and sausage.  Cook for about 3 minutes.
Add chicken stock, cayenne pepper, pepper flakes, ginger and lentils.  Cook for about 1 hour till lentils are tender.  Chop the celery tops and add in.
 
3,393 total views, 0 views today

You may like these recipes too: