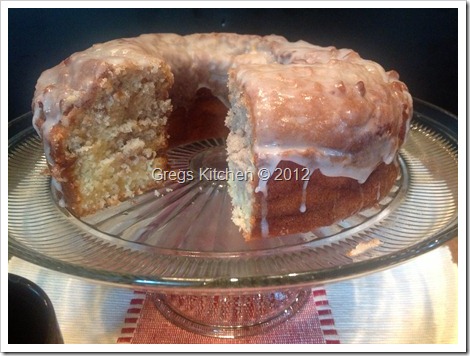 Y'all, this is one of my favorite "coffee cake" type cakes that mom always makes.  It is always so moist and hard to stop eating.  I can remember her making an extra bit of the glaze and doing a double coating.  She knew how much I loved the sugar part of the cake.
It is such an easy cake to put together and have for when you want to impress someone with something sweet with their coffee.  I hope y'all enjoy.
Ingredients:
3 cups all purpose flour
2 tsp baking powder
3/4 tsp baking soda
1 tsp salt
1 1/2 cups sugar
3/4 cup butter, room temperature
1/4 cup vegetable or canola oil
3 large eggs
1 tsp vanilla extract
1 1/4 cups sour cream
1 1/2 tsp. ground cinnamon
4 1/2 tablespoons brown sugar
1 cup crushed, toasted pecans
Preheat oven to 350F. Grease and flour a 10-inch tube pan.
In a medium bowl, sift together flour, baking powder, baking soda and salt.
In a large bowl, cream together butter and sugar until light and fluffy. Beat in vegetable oil and the eggs, adding one in at a time. Mix in vanilla extract.
Working in two or three alternating additions, stir in the flour mixture and the sour cream, making sure to end with an addition of the flour. Mix only until no streaks of dry ingredients remain visible.
In a small bowl, stir together cinnamon, brown sugar and pecans.
Add half of the cake batter to the prepared pan and spread it into an even layer. Top evenly with 3/4 of the cinnamon mixture, then spread the rest of the cake batter then top with remaining cinnamon mixture.
Bake for about 45 minutes, or until a toothpick inserted into the center comes out clean.
Cool the cake completely in the pan, on a wire rack. When cool, drizzle with cinnamon glaze.
  Glaze
2 tbsp half&half (or milk)
1 cup powdered sugar
1/4 tsp cinnamon
1/2 tsp vanilla extract
Combine all glaze ingredients in a small bowl and whisk until smooth. If glaze is too thick to drizzle easily, add a bit more half&half or milk. If glaze is too thin, add an extra tablespoon or two of powdered sugar.
13,018 total views, 0 views today

You may like these recipes too: