Florida Strawberry Freeze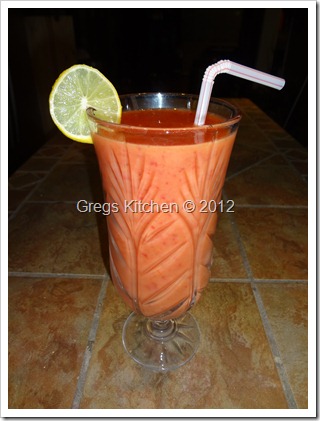 Y'all, you know we have to have a drink to celebrate strawberry season here in Florida.  So I decided to come up with a sweet, tangy, strawberry freeze.  It combines 3 of Florida's best citrus's and fruit.  It is an adult version, so none for the kiddies.  The best thing about this drink, is it can be made with frozen strawberries. So, I can get a couple flats of berries, and freeze them for summer drinks.
This is quite easy to make, and I think y'all will find it nice and refreshing.  Of course you can leave out the alcohol if you must, but I certainly don't suggest that.
Ingredients:
1 can frozen orange juice concentrate
2 cups fresh or frozen strawberries
1 tablespoon agave sweetener or simple syrup
Juice of 2 Key Limes (or 2 tbls. lime juice)
2-4 ounces Vodka
Combine all ingredients in a blender and mix on smoothie setting or high if you don't have smoothie button.  Garnish with key lime or strawberry or both.  ENJOY!!!!
1,113 total views, 0 views today

You may like these recipes too: