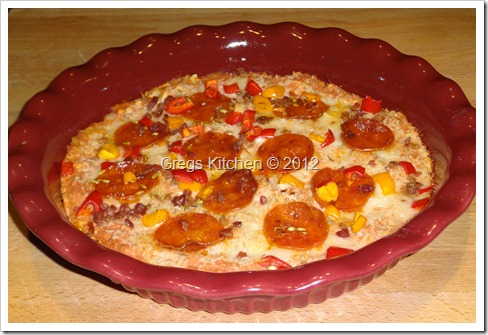 If y'all like pizza, you are going to love this dip.  It is so easy to make, and you can just pop it into the oven about 10 minutes before your guests arrive.  I suggest you make a couple of them, because they are going to love this.  It will be fun to watch everyone think it's a pizza, only to find out it is a cheezy pizza dip.  ENJOY!!!!!
1 teaspoon oregano
8 ozs cream cheese
12 cup pepperoni (slices)
14 cup green onion (chopped)
1/2 cup Greek Yogurt
1/2 cup pizza sauce
2 strips bacon crumbled
1/4 cup bell pepper (chopped)
1/4 cup onions (chopped)
1 teaspoon roasted fennel seeds
1/4 cup mozzarella cheese (grated)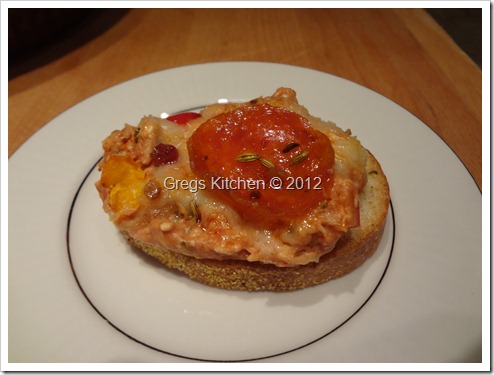 Mix ingredients together, minus pepperoni & bacon.
Pour into pie pan dish
Place pepperonis across top of mixture.
Sprinkle bacon bits over entire mixture.
Bake at 350 degrees for 10-15 minutes.
Sprinkle mozzarella over and heat 5 minutes more to melt cheese.
Serve with melba toast, bread crisps, chips and etc.
You may also save some of the onions and peppers and put them on top then sprinkle the cheese over the top.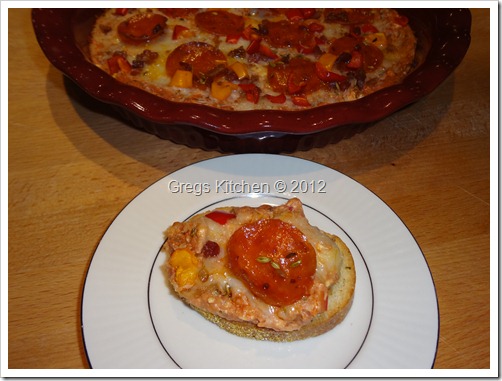 4,424 total views, 0 views today

You may like these recipes too: