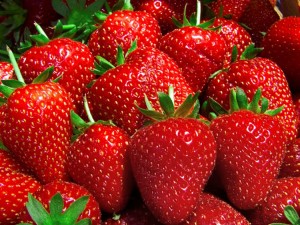 Strawberry Dumplings
---
I didn't as much find a recipe for strawberry dumplings, as a description from my Grandmother. "You make strawberry dumplings just like you do chicken dumplings. Just have your strawberries boiling good. Of course you have to put water, sugar and butter in that, and just drop your dumplings in it like you do any other dumplings. When you make dumplings, it is just as good as a baked cobbler with a crust."   I wouldn't say the dessert was just as good as a cobbler, rather it tasted like fluffy biscuits with strawberry jam. Pretty good, though perhaps not as satisfying as strawberry shortcake (a recipe that uses many of the same ingredients).

The proportions for the strawberry sauce below are what I think work best, when I originally made it I used too much sugar and too little water, so I have adjusted them in both regards.

---

Strawberry Dumplings

Ingredients

For the dumplings

3/4 cup sifted flour
2 1/2 tsp. baking powder
1/2 tsp. salt
1 egg
1/3 cup milkFor the sauce
1 lb strawberries, washed and chopped
2 cups water
2 tbsp. butter
2/3 cup sugar
InstructionsTo make the dumplings, mix the flour, baking powder and salt in a medium size bowl. Add the egg and milk and beat until you have a smooth paste. Set aside.Prepare the sauce by putting the chopped strawberries, butter, sugar and water in a large Cast-iron pot. (I prefer cast-iron, because it heats evenly and keeps warmer longer)  Mix. Bring to a boil, stirring occasionally. When the sauce is boiling, drop the dumpling batter into it by small spoonfuls. Cover the pot and cook for 15 minutes. Do not remove the lid while the dumplings are cooking, as they need the steam to be light.  If you like a more browned dumpling, after cooked, remove the top and put under broiler for a few minutes to brown…..also good with a scoop or two of ice cream.
3,055 total views, 1 views today

You may like these recipes too: