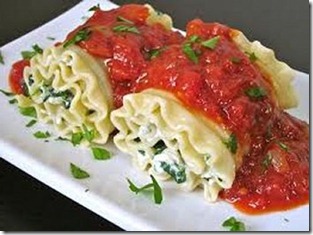 I started off this morning trying to figure out something different to make for dinner today.  So as I was stumbling through the grocery store, I heard a couple ladies talking about lasagna.  I thought for a moment about all the recipes I have seen of lasagna roll ups, and decided today was the day I was going to try these out.   I didn't feel like a heavy tomato based filling so I opted for a spinach and ricotta filling.  So after grabbing some ingredients, and a box of garlic bread (yes I bought the frozen stuff) I was headed home to try out my new creation.  I did use my moms home made marinara sauce to top these delicious beauties. I must admit they tasted great, and I have a couple left for lunch this week.
Ingredients
Box of Lasagna Noodles
1 tablespoon olive oil
2 tablespoons minced shallots
2 pkgs (10 oz each) frozen chopped spinach, thawed, squeezed dry
1/2 teaspoon salt
1/2 teaspoon ground black pepper
1/4 teaspoon garlic powder
9 tablespoons ricotta cheese
Marinara sauce to garnish
1. Preheat oven to 350F. Prepare a  13- x 9-inch baking dish with cooking spray. Cook lasagna noodles per box directions.
2. Meanwhile, make or heat your marinara sauce of choice.
3. Make Filling: Heat oil in large skillet over medium-high heat 1 minute. Add shallots; cook 3 minutes, stirring occasionally, or until tender. Blend in the drained spinach, salt, pepper and garlic. Cook and stir 3 minutes or until heated through. Remove from heat and stir in the ricotta cheese.
4.  Lay out lasagna noodles. I used a cutting board for this. Top each with equal amounts of spinach mixture (about 1/3 cup). Spread spinach evenly over each noodle leaving last 2 inches uncovered.  Roll up each starting with the covered end.  Cover dish with aluminum foil. Bake 30 to 35 minutes or until sauce is bubbling and roll-ups are hot.
5. To serve, spread 1/2 cup marinara sauce in each shallow bowl; top with 3 roll-ups. Remaining sauce may be served over top.
1,443 total views, 0 views today

You may like these recipes too: