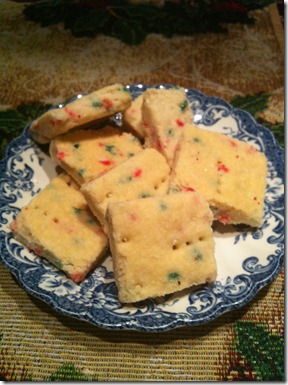 One of my dearest friends gave me this recipe.  She made these and shared them with us all at the Christmas Cookie Exchange.  They are delicious.  I think you'll like these light buttery cookies.  Enjoy.
Ingredients
•1 1/4 cup(s) all-purpose flour
•3 tablespoon(s) powdered sugar
•1/2 cup(s) (1 stick) butter (no substitutions), cold, cut into pieces
•1 tablespoon(s) red and green nonpareils or sprinkles or 1/2 cup mini baking bits
Directions
1. Preheat oven to 325 degrees F.
2. In food processor with knife blade attached, pulse flour and sugar until combined. Add butter and pulse until dough begins to come together. Place dough in medium bowl. With hand, gently knead in nonpareils or baking bits until evenly blended and dough forms a ball.
3. On lightly floured waxed paper, pat dough into 8" by 5" rectangle; freeze 15 minutes. Cut dough into 1/2-inch squares. Place squares, 1/2 inch apart, on ungreased large cookie sheet.
4. Bake cookies 18 to 20 minutes or until lightly browned on bottom. Transfer cookies to wire rack to cool. Repeat with remaining dough.
Store cookies in tightly covered container at room temperature up to 1 week, or in freezer up to 3 months.
749 total views, 1 views today

You may like these recipes too: