Southern Buttermilk Biscuits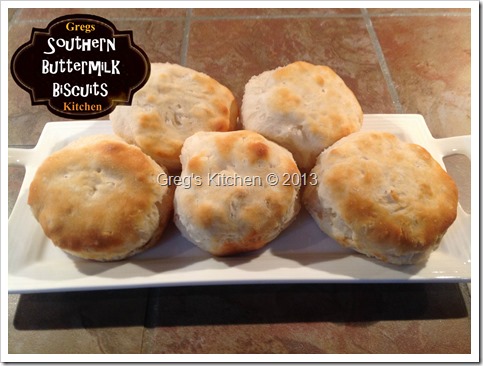 There is just nothing more basic to southern cooking than buttermilk biscuits.  I hardly remember a meal at my mamaw's house that did not include them.  My favorite way to have them is with a big heaping ladle of sausage gravy all over them.  I have and still do make a complete breakfast out of them this way sometimes.  They are also great with just butter or especially well with my moms home made apple butter.
Any left over (hardly ever) biscuits are popped into a sealed container on the counter and used for a quick breakfast grab and go in the morning.
Just remember a couple of things.  Do NOT over work your biscuits or knead them, and always use very very cold fat (butter/lard/vegetable shortening).  Both of these things contribute to the soft flakiness of the biscuits.
Ingredients:
4 cups all purpose flour (White Lily)
2 tablespoons baking powder
¼ teaspoon baking soda
2 teaspoons salt
¼ cup cold lard (or vegetable shortening)
¼ cup very cold unsalted butter
1 to 1 ½ cups cold buttermilk
Preheat the oven to 475 degrees. Grease your baking sheet or cast iron skillet well with shortening.
In large bowl combine flour, baking powder, baking soda and salt.  Mix with a whisk or fork to combine and aerate the flour well.
Cut the lard and the butter into small cubes.  Separate the shortening and butter into cubes and sprinkle over the top of the flour mixture.  Use the fork to toss the cubes lightly in the flour to coat.  Then dip your clean fingers into some flour and mix everything together, squishing and rubbing the mixture together to combine the fats and the flour.  Work quickly but be gentle handling the mixture.  This is the key to a tender biscuit.  It's very fine if there are some lumps of butter or shortening left.
Pour about ¾ cup of the buttermilk over the mixture.  Quickly use the fork to fold the buttermilk into the dough.  Keep adding the buttermilk a small amount at a time until you have a cohesive dough. You may not use all the buttermilk.  You just want it mixed and no dry flour at bottom of bowl.
Lightly flour a work surface.  Turn the dough out onto the surface, and turn it over on itself once or twice to bring the dough together. Do NOT knead the dough.  Only lightly fold it into itself.  Press the dough into a rectangle about ½ inch thick.  Press it out lightly with floured hands.
Cut the biscuits with a round biscuit cutter or a very thin rimmed glass, always cutting as close to the edge of the dough and as close together as possible to get as many biscuits as possible.   Press the cutter straight down and pull back up; don't twist or the sides won't rise up as nice.
Place the biscuits very close together on the prepared pan, just touching each other. This helps them rise while cooking.  You can gently push whatever dough is left and cut out more biscuits if you like.
Bake the biscuits for 8 – 9 minutes, rotating the pan about half way through.
Watch the biscuits carefully so they do not over-brown. These may not get too brown on top, but will be nice and soft inside.
Leave the biscuits to cool slightly.  They will keep a day or so tightly wrapped.
Makes 12 – 15 biscuits
12,926 total views, 0 views today

You may like these recipes too: