Pappardelle with Mushrooms, Prosciutto and Artichoke Hearts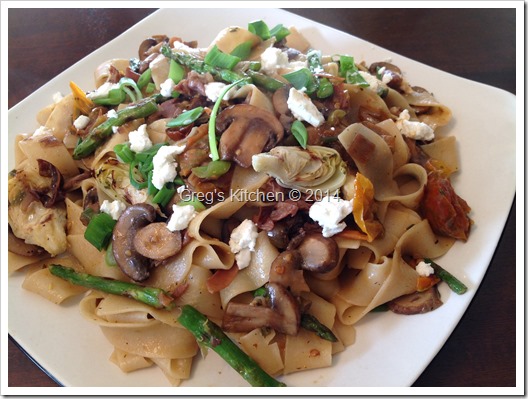 This morning I headed out for my normal weekend farmers market shopping.  Today I found my way to downtown Ft. Lauderdale to the Las Olas Sunday Market.  Now this is not your run of the mill farmers market.  It is in a beautiful setting as you can see by the picture below that I took this morning.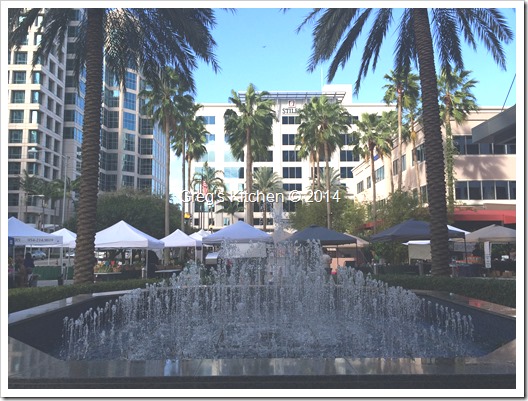 I found some wonderful produce today.  Purple Peppers, asparagus, beautiful scallions,  tomatoes (heirloom) and mushrooms.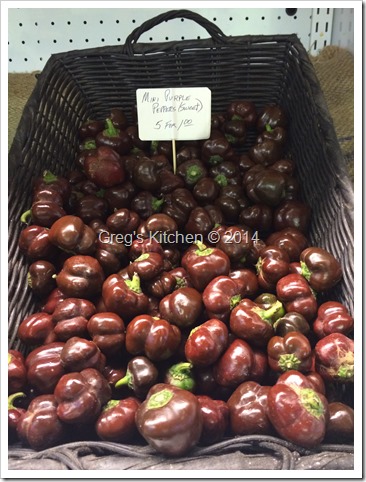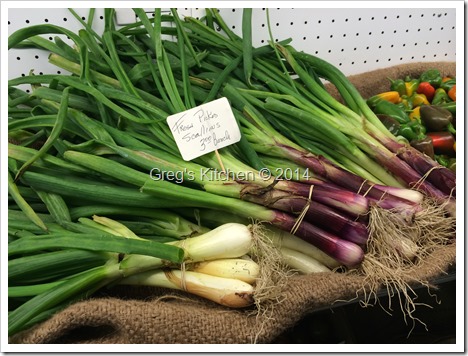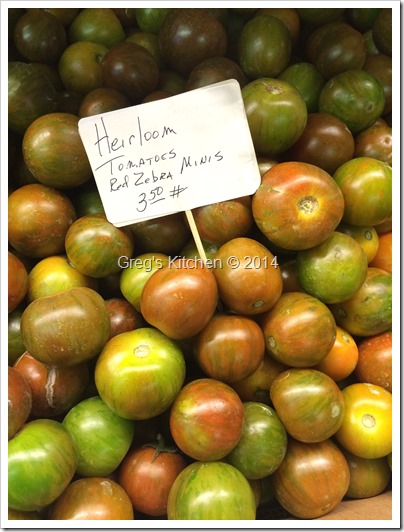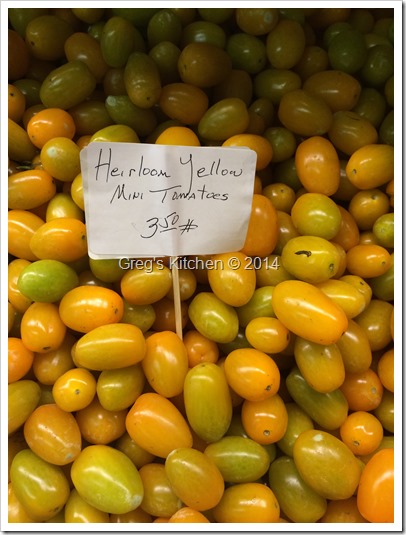 I had no idea what I was going to do with these items.  I usually go to the market with my menu for the week in my head so I know what to get.  Not today.  I was just on an expedition to see what looked the freshest.  When I finished my purchase and was leaving the market I saw a lady with fresh made ravioli's.  That's where I got my inspiration.  Tonight it's going to be home made pasta with my farmers market finds.  So it was back to the house (after a quick stop at Starbucks) and to work on some fresh pasta. 
I didn't want to chop my market treasures into small un recognizable pieces so I opted to make "pappardelle" so that it could compliment the large size of the items I was going to add.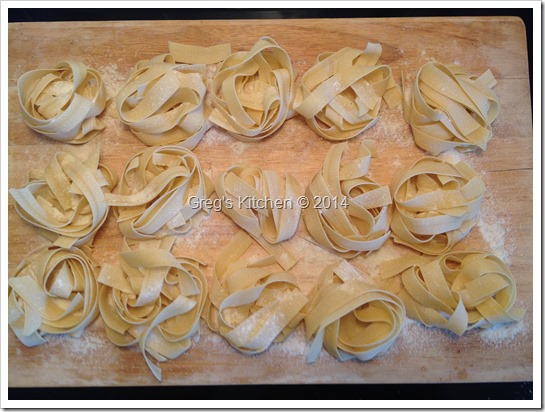 I now had everything I needed.  I let the pasta dry all afternoon and put the recipe together in my head.  I think I will add artichoke hearts and goat cheese to the recipe.  Fortunately I had both items and now it was just the task of putting it all together.  So here we go.  I hope y'all enjoy this recipe.  I know I had to stop myself from getting another helping. It turned out so hearty and earthy tasting.  Now remember, I used what I found today at the market.  You can definitely substitute different peppers, tomatoes and protein.  Also, I grilled my asparagus, artichoke hearts,  zebra tomatoes and purple peppers, you don't need to do that if you don't want to.  I just wanted to add an additional layer of flavor.
Ingredients:
2 tablespoons olive oil
6 large scallions (whites for cooking, greens for cooking and garnish)
2 cloves garlic, minced
1/2 lb. thin asparagus spears, trimmed and cut on the diagonal into 2 1/2-inch pieces, grilled
8-10 artichoke hearts
8 ounces baby bella mushrooms sliced (baby portabella's)
1/2 teaspoon salt
1/2 teaspoon pepper
1 cup white wine
2 tablespoons fresh rosemary, minced
3-4 ounces prosciutto (cut into 1/4 inch strips)
1 – 1  1/2 pints cherry tomatoes – left whole
6 mini purple peppers, sliced
4 ounces fresh goat cheese, crumbled
3/4 pound pappardelle
Directions
Bring a large stock pot of water to boil.  Salt the water to the taste of the sea.
While the water is coming to a boil, grill your asparagus, artichokes, peppers and tomatoes (other wise add them to the recipe with the mushrooms).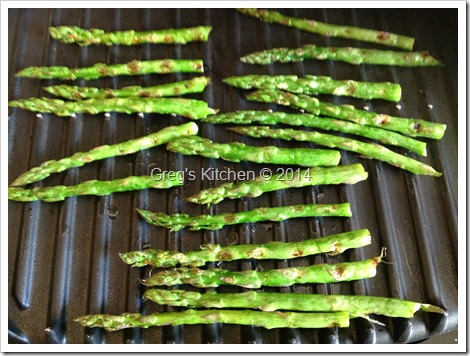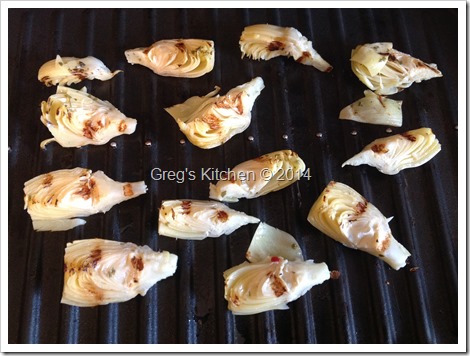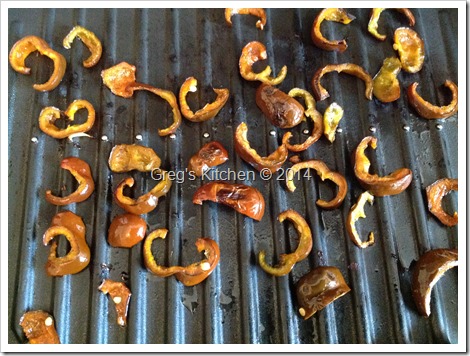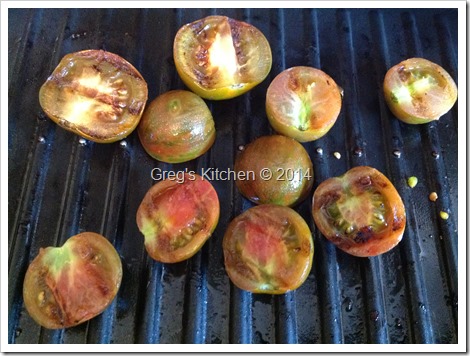 Once all are grilled, set them aside in large bowl.
Add the olive oil to a large sauté pan (large enough to hold all ingredients and pasta) over medium heat.  Once it is hot and shimmering, add the scallion whites and sauté till translucent.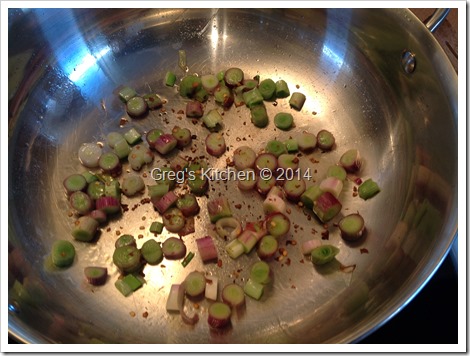 Add the mushrooms, garlic,  salt and pepper and saute 2-3 minutes.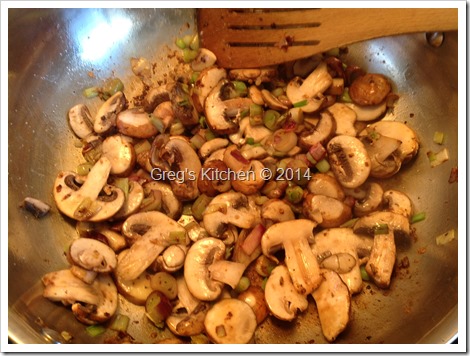 Add the wine and rosemary, stir will and cover and let cook for 3-4 minutes. (add your pasta to the boiling water if your using dry store bought pasta)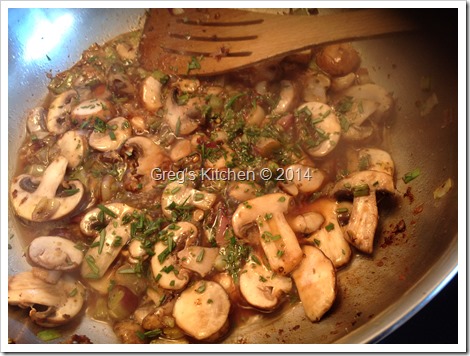 Add the prosciutto and cook 2 minutes.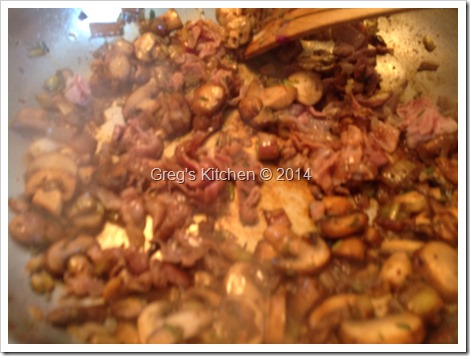 Now you will add the tomatoes.  Both the grilled ones and the others. ( I used a combination of mini red zebra striped heirloom tomatoes, and mini yellow heirloom tomatoes.  I only grilled the zebras)  Cover and let cook till the tomatoes burst.  About 4-5 minutes. Add the pasta to the boiling water. ( I used fresh pasta so it will be ready about the same time as the remaining steps of the recipe.)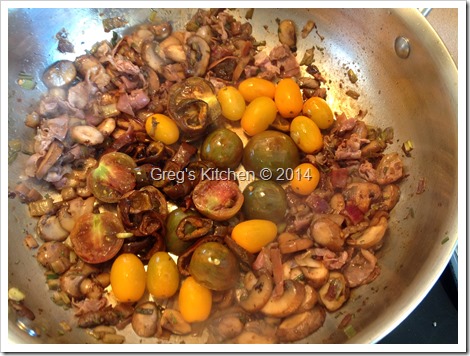 Add half of your green scallion tops and stir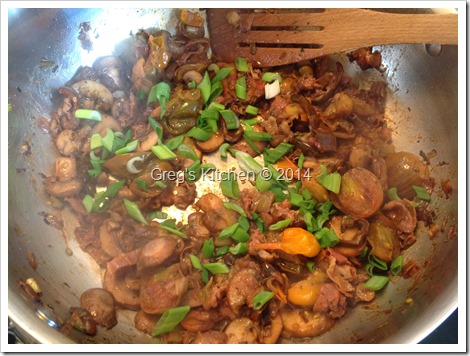 Add the cooked Pappardelle (Do not dispose of pasta water yet.  You will add some to the pasta to get the consistency you like once the pasta is added to the cooked ingredients), asparagus and artichoke hearts and toss.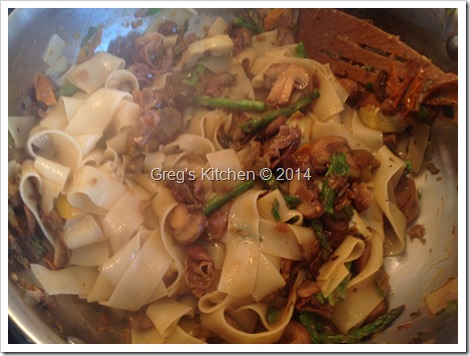 Add a bit of the pasta water to get the sauce consistency you desire.  Salt and pepper to taste.  Sprinkle with remaining scallion tops and goats cheese and serve.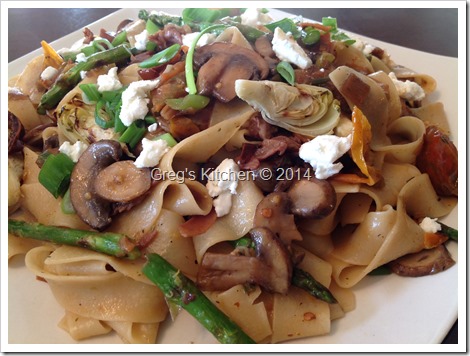 12,526 total views, 0 views today

You may like these recipes too: