Basic Crustless Pumpkin Pie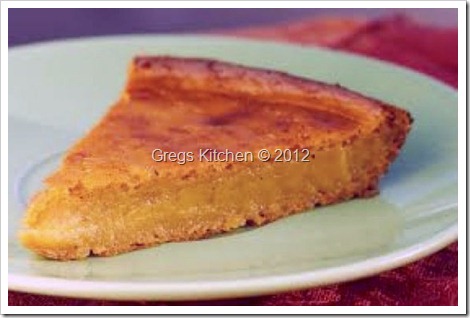 Y'all, this is a low-fat crustless pumpkin pie is a perfect dessert for the dieters at your holiday meal or people who are watching their carbs.  It is a great substitute if you need or want one this holiday season, so you don't have to miss out on all the great seasonal flavors.  Enjoy y'all !!!!!
Ingredients:
1 (15 oz can) pumpkin
1/3 cup sugar or sugar substitute* equivalent to 1/3 cup sugar
2 Tbsp honey
1 1/2 tsp pumpkin pie spice
2 eggs, lightly beaten (1/2 cup refrigerated or frozen egg product, thawed)
1 tsp vanilla
3/4 cup evaporated fat-free milk
Preheat oven to 350 F. Lightly grease an 8-inch spring form pan. In a medium bowl, combine pumpkin, sugar, honey, and pie spice. Add eggs and vanilla. Beat lightly just until combined. Gradually stir in evaporated milk. Pour into prepared pan and place on a foil-lined baking sheet.
Bake for 45 to 50 minutes or until center appears set when gently shaken. Cool for 1 hour on a wire rack. Cover and chill for at least 2 hours or up to 24 hours before serving.
To serve, loosen pie from sides of pan by running a thin metal spatula around the edge. Remove sides of pan. Cut pie into wedges to serve.
*Sugar Substitutes:
Choose from Splenda granular or Sweet'N Low bulk or packets. Follow package directions to use product amount equivalent to 1/3 cup sugar.
*Sugar Substitutes:
Same as below, except 67 Calories, 13g Carbs

11,987 total views, 1 views today

You may like these recipes too: