Parmesan Crusted Chicken with Mango/Peach Salsa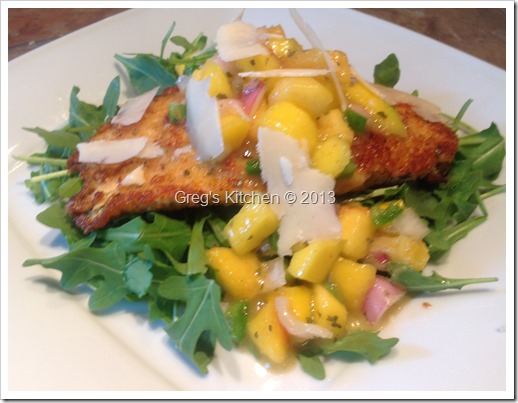 This is such an easy dish to put together for dinner.  I think y'all are going to love the complexity of the taste between the salty parmesan crusted chicken and the tangy, sweet and spicy salsa.  it is definitely going to be in my normal rotation of meals.
Ingredients:
2 large skinless boneless chicken breasts ( Springer Mountain Farms )
1/2 cup bread crumbs
1/2 cup grated parmesan cheese
1/4 teaspoon salt
1/4 teaspoon pepper
1 egg
In large flat pan (or cake/pie pan) crack egg and mix well.  In separate flat dish or cake/pie pan mix together the bread crumbs, parmesan cheese, salt and pepper.
Carefully slice each chicken breast into cutlets.  Basically just slice down the center horizontally.  I make sure my knife is very sharp and then with the palm of my left hand holding chicken breast to cutting board, slowly slice the chicken breast in half to make two cutlets.
Pound each chicken cutlet with mallet or rolling pin to about 1/4 inch thickness.   I like to take a large zip top bag and cut it down each side to open fully.  Then place chicken breasts one at a time on the cut bag and pull the other side back over the chicken.  Then slowly pound chicken using slow downward strikes and pushing out a bit from center to flatten.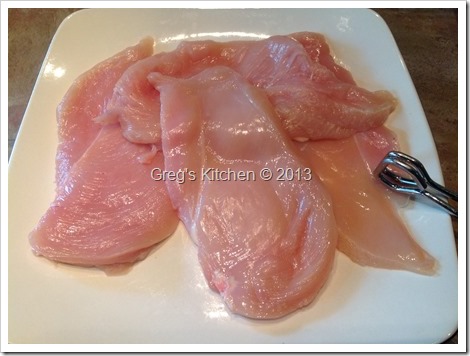 Dredge each piece of chicken one at a time in the egg then let excess off chicken.  Then dredge in the bread crumb mixture to lightly coat.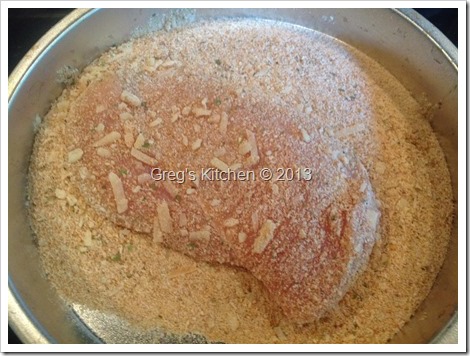 Fry in a non stick skillet with just a bit of olive oil over medium high heat for 3 minutes per side.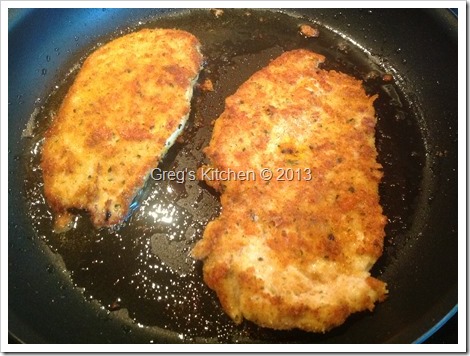 Set each on a cooling rack to let any excess oil drip off.  Serve on a bed of arugila with the Mango/Peach salsa over top.  You may even sprinkle with a bit more parmesan cheese.  I like to use a potato peeler to "peel" parmesan cheese from a block.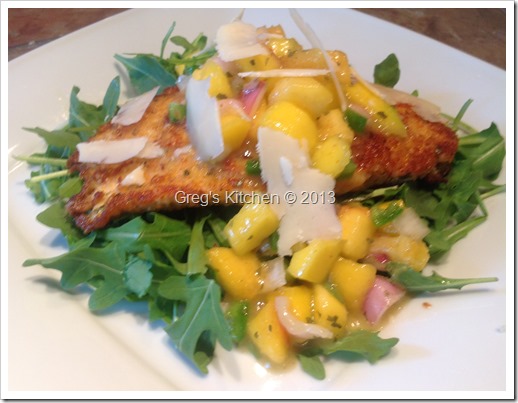 2,549 total views, 1 views today

You may like these recipes too: