Bourbon-Molasses Glazed Chicken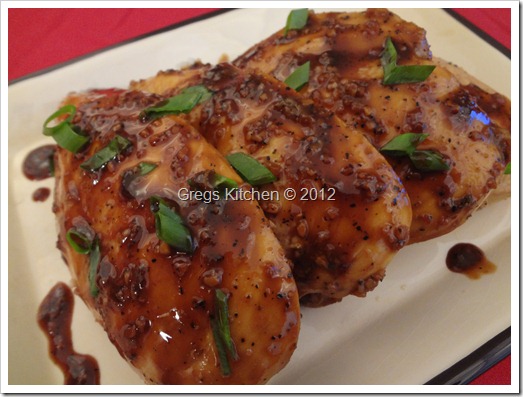 6 boneless skinless chicken breasts
1 tablespoon olive oil
 2 shallots, diced
4 cloves garlic, minced
1/2 cup bourbon
1/4 cup molasses
4 tablespoons Maple syrup
2 green onion tops diced
Freshly ground black pepper
directions
1. Clean and rinse chicken breasts
2. Mix shallots, garlic, bourbon, molasses, maple syrup, and black pepper in a zip lock bag.
3. Place chicken breasts in mixture and and seal.
4. Let chicken marinate for 4 hours, up to overnight.
5. Add the olive oil to sauté pan and heat to medium high.  Remove chicken from zip lock bag wiping off excess mixture (reserve marinade).
6. Sauté the chicken 3-5 minutes each side, remove from pan and let rest 3-5 minutes.
7. While sautéing chicken, place marinade in sauce pan and reduce by half over medium heat.
8. Pour thickened marinade over chicken breasts and serve.
9. Sprinkle with green onion tops.
10.  Serve immediately. Makes 6 servings.
2,370 total views, 1 views today

You may like these recipes too: