Spicy Chicken Pasta with Vodka Sauce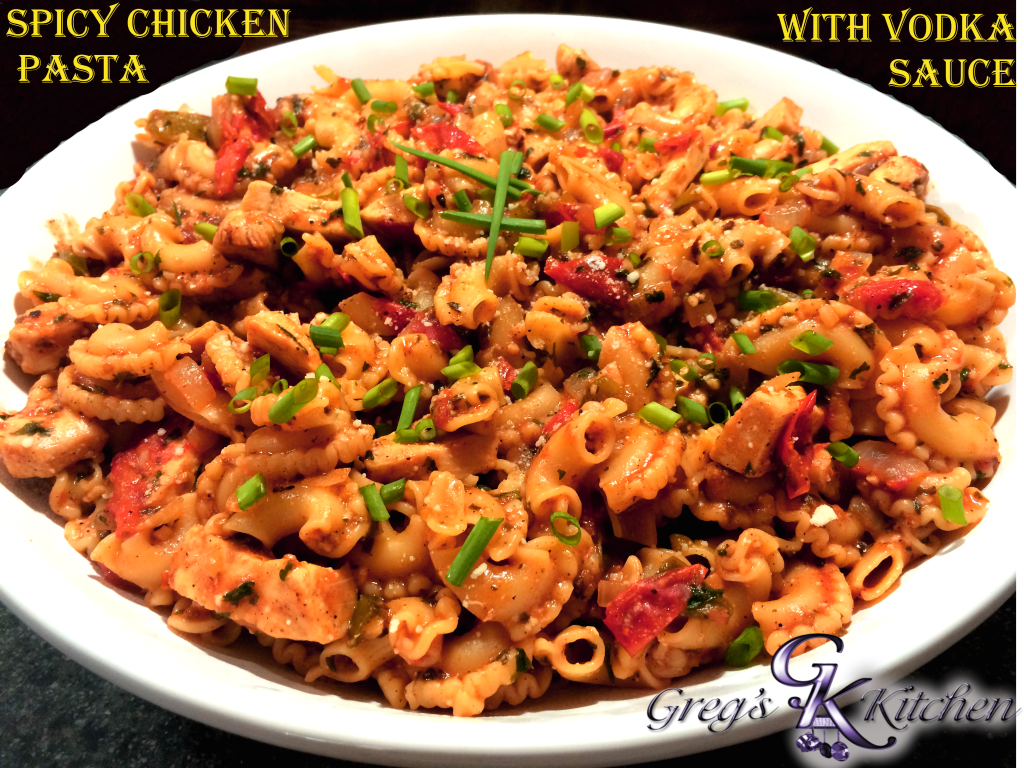 Here is another spicy pasta dish for you all to try.  I found some beautiful cherry tomatoes and peppers this past weekend at the farmers market and I couldn't wait to put them to use.  Of course if y'all follow me, you'll know I like a bit of spice.  So not only did I heat things up with some crushed red pepper flakes.  I also added a bit of vodka to add just a touch of spice from it's interaction with the tomatoes.  All in all, it turned out great.  Hope you enjoy and let me know what you think.
Ingredients:
1 pound pasta
2 tablespoons olive oil
4 cloves garlic, minced
1/2 large sweet onion diced
1/2 red bell pepper diced
1/2 green bell pepper diced
1 teaspoon red pepper flakes (more or less to taste)
2-3 skinless, boneless chicken breasts cut in 1-2 inch squares
1/2 cup white wine
1/4 cup vodka (you can omit if you like)
1 pound cherry tomatoes (you could used diced/canned in necessary)
1/2 cup fresh parsley chopped fine
kosher salt to taste
Directions:
Bring large pot of water to boil and make sure it is as salty as the sea.  We want to make sure our pasta has some flavor and you won't get any if you try to salt it after cooking.  Pour in the pasta and cook to 2 minutes less than package directions.  It will continue to cook when mixed with chicken and sauce
In your largest saute pan or stock pot, add the olive oil over medium heat. Add the garlic and red pepper flakes and cook for about 1 minute.  Be careful not to burn the garlic.
Now add your onion and  bell peppers. Season with a bit of salt.  Saute till just beginning to become translucent.
Add the cut chicken breast pieces and let cook for 2-3 minutes lightly browning each side.  Add a bit of salt here too…remember, we want to season throughout the cooking process to build the layers of flavor.  Taste each time to see where you are in the seasoning.
Now add the white wine and scrape all those beautiful brown bits from the bottom of the pan.  That's your flavor, don't waste it.
Add the cherry tomatoes and place a lid on the pan. Let the chicken cook about 5 minutes.  During this time your cherry tomatoes should start bursting as well.
Smash any unburst tomatoes with a fork.  I actually use my grandma's potato masher for this part.  We want all that wonderful sweet tomato taste released into the sauce.
Add in the vodka and simmer for 2-3 minutes to let the alcohol burn off and the vodka to interact with the tomatoes.
Add the cooked pasta directly into the pan and gently mix.  I like to use a spider to do this so there is a bit of the starchy water added into the mixture as well.  This will help thicken the sauce.  DO NOT drain pasta and discard the water.  You can add some of the starchy water you cooked the pasta in directly to the mixture to give more sauce and additionally thicken it.
Add the Parmesan cheese and fresh parsley  once off the heat and mix well.  Taste and add additional salt if needed.   Serve immediately.
3,811 total views, 1 views today

You may like these recipes too: