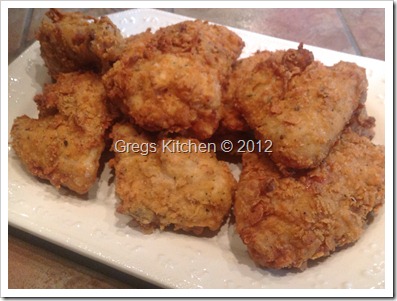 6 TBSP. butter
1 cup all-purpose flour
1/2 tablespoon baking powder
1 1/2 tablespoon salt
1/4 cup vegetable shortening
2 teaspoons ground sage
1 1/2 teaspoons ground thyme
1 teaspoon ground marjoram
3/4 teaspoon ground rosemary
1/2 teaspoon nutmeg
1/2 teaspoon finely ground black pepper 1 1/2 tsp. Paprika
1/4 tsp. cumin
1/2 tsp. Pepper
1/2 tsp. Onion Powder
1/2 tsp. Garlic powder
4 lbs. Chicken ( I use skinless)
Remove chicken from refrigerator and let come to room temperature in a bowl of water. (this will help it cook evenly if it is not cold)
Preheat oven to 425, and put a cast iron skillet in oven with the butter and shortening and leave till melted and bubbly.
Mix all dry ingredients together, blended completely.
Remove chicken from water and shake excess water off, dredge in dry ingredients and then place each piece  skin side down (you can remove skin before dredging  if you choose) in to the skillet.  Place back into oven and cook for 30 minutes.
Remove from oven, and turn the chicken over so skin side is now up and place back in oven for an additional 20-30 minutes (make sure internal temperature is at least 165 degrees).  Don't over bake or it may come out dry.
10,591 total views, 0 views today

You may like these recipes too: