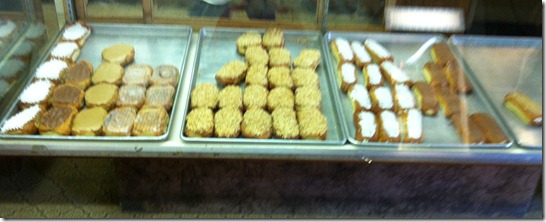 Y'all, I am going to share with you one of my dirty little secret pleasures.  Now I only get home to Wapakoneta, Ohio about once a year but that visit always entails one mandatory guilty pleasure.  It is a cream filled "long john" donut with maple icing and sprinkled heavily with crushed walnuts.  All I can say is that even my mom knows that my first morning home, I am going to make my way to "the City Bakery" downtown. 
Now the "City Bakery" is not like your big city's bakery's with 100's of choices. In fact the picture above is what was left when I got there at 7:30am.  Look over there on the far right at that lone little "long john".  That one was mine.  As I was standing there remembering growing up here, and sneaking to the bakery downtown every chance I got, I heard a lady who came in behind me ask if they had any more maple iced sticks in the back or what that the only one.  Reality smacked me back out of my day dream and I chimed and said, yea I would like more than just that one if you have more in the back.  Hey, I had to claim my stake to that only one left.  I had just driven over 1000 miles, was not completely awake yet from my night long drive home, and the last time I came home, they had decide to go fishing for the week I was home and I missed out on my guiltiest of pleasures.  So this baby was mine if it was the only one in the house, and it was.
I felt a little bad standing there as they bagged up my little treasure and a couple of the maple glazed coffee rolls for mom, but I got over it once I sunk my teeth into my prize.  Now I have had these donuts so many other places through the years, but this one is special.  I don't know if it's the recipe, the cooking oil they use or what, but I literally crave these donuts unique taste and textures.  This last visit home I found out that this family owned bakery, now run by the grandson of it's founder almost closed last year.  I know, can you imagine?  I wouldn't have a reason to go home anymore…(oops, sorry mom.  Did I say that out loud?)  It seems their fryer stopped working and they didn't have the money to fix it.  Mom said that people in the town actually donated money to get it fixed.  Tragedy averted and I can continue my visits.
So here is my contribution to National Donut Day, or I should say my grandmas contribution since it comes from her recipe box.  By the way, when you make these and cut out the centers, don't toss them aside or re roll them out, make donut holes out of them.  You can be popping those all day long.
Buttermilk Doughnuts:

For the Doughnuts:
3½ cups all-purpose flour
¾ cup  sugar
½ teaspoon baking soda
2 teaspoons baking powder
1 teaspoon salt
1 teaspoon ground cinnamon
2eggs
1 cup buttermilk
¼ cup unsalted butter, melted and cooled
Oil for frying
For the Cinnamon Sugar Coating:
1 cups granulated sugar
3-4 tablespoons ground cinnamon
  In a large bowl, whisk together the flour, sugar, baking soda, baking powder, salt, and cinnamon and set aside. Then in another bowl, whisk the eggs and  buttermilk until combined.  Add the melted and cooled butter and whisk again.
Now make a well in the center of the flour mixture and pour the liquid ingredients into the it.  Using a large wooden spoon, slowly fold the flour into the liquid center until the mixture forms a sticky dough.  Turn this dough out onto a lightly flour dusted surface and sprinkle it with flour and roll it out until it is about ½-inch thick.  Now find two round cutters such as a biscuit cutters or small glasses or even a used vegetable can and cut out your donuts.  Use the smaller one to cut out the centers.  The first time I did this, I used a biscuit cutter and a small shot glass for the center holes.  See, shot glasses are a multipurpose tool too.  Lay these cut out donuts on a parchament or wax paper lined cookie sheet while your oil comes to temperature.
Pour just enough oil into a cast iron Dutch oven or other large pan to make a layer approximately 1 inch to 1½ inches deep that will cover the donuts.  then heat the oil over medium-high heat until it is 365 to 370 degrees F.
While your oil comes to temperature, make the sugar mixture and have it ready because your going to want to dip the donuts while they are still hot and a bit wet from the oil.
Make the Cinnamon Sugar mixture In a medium wide-mouthed bowl so it is easy to drop the donuts into and mix around.
Now once the oil comes to temperature, gently lift the doughnuts off the baking sheet and place them gently into the oil. Only do a few at a time and do not crowd the skillet. Once they have lightly  browned on one side turn them over with tongs or a slotted spoon ( I use chop sticks ) and continue to cook for another minute or just until browned on the other side.  Using a slotted spoon, transfer the doughnuts to the paper towel-lined baking sheet and continue to fry the rest of the dough until finished.   Now as your second and third and so on batches cook, dip each cooked donut in the cinnamon sugar mixture to coat the surface and return to the baking sheet.
Now you have to remember that the doughnut holes will cook faster and can be made in two or three batches after the doughnuts are done.  They will only take about a minute on each side so watch them closely.  Then coat them as well in the cinnamon/sugar mixture.
You could also make a glaze for these fried beauties as well.  Mix about 2 cups powdered sugar, a cup of milk and 1 teaspoon vanilla in large bowl.  Then dip the donuts one by one, turning them with some chop sticks or wooden spoons to coat each side.  Then lay on a cookie cooling rack placed over a cookie sheet to allow the excess to drain off.
Enjoy.
1,646 total views, 0 views today

You may like these recipes too: