Strawberry-Cream Cheese Pastries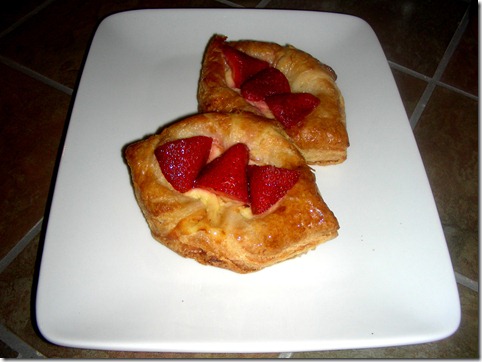 Ok, so I had some additional puff pastry thawed ( from the breakfast pastry pies I made earlier), and I hate to waste food, so on I go.  Since I have so many strawberries in my kitchen right now I decided to try some of these out.  If I do say so myself, they turned out wonderfully.  I just love the taste of strawberry's and cream cheese together, so this idea was a given.
Once again you have to make sure you thaw your puff pastry in the refrigerator overnight.
Ingredients:
Puff Pastry sheets
Strawberries ( 2 per pastry)
8 oz cream cheese at room temperature
1/3 cup sugar
2 large egg yolks, at room temperature
1 tsp pure vanilla extract
1/4 tsp salt (kosher is best)
Zest of 2 lemons
Preheat your oven to 400 degrees and line a sheet pan with parchment paper.
In a mixer, combine the cream cheese & sugar fitted with paddle attachment and cream together on low speed until smooth. Slowly add the egg yolks, vanilla, salt, and lemon zest and mix until just combined. Don't over whip! You basically just want to fold together the ingredients without a lot of air.
Unfold a sheet of pastry onto a lightly floured cutting  board and roll it slightly with a floured rolling pin until it's a 10×10 inch square. Cut the sheet into quarters.
Take a fork and punch holes in center area of the puff pastry where the cream cheese mixture will be put.  This keeps it from puffing up like the sides will do. Turn in two opposite corners of each of the puff pastry squares till points meet.  Now place a heaping tablespoon of cheese filling into the middle of each of the 4 squares. Brush the top of the pastries with egg wash. Place the pastries on the prepared sheet pan. Repeat with the second sheet of puff pastry and place in the refrigerator for 15 minutes. Bake the puff pastries for about 20 minutes, rotating the pan once during baking, until puffed and brown. Remove from oven, cut a few strawberries in half and place pieces on the warm cream cheese center. Serve warm.
4,853 total views, 0 views today

You may like these recipes too: